mackinac 2012:

Oakland County executive to Washtenaw County: 'You don't have any skin in the game'

Posted on Thu, May 31, 2012 : 1:23 p.m.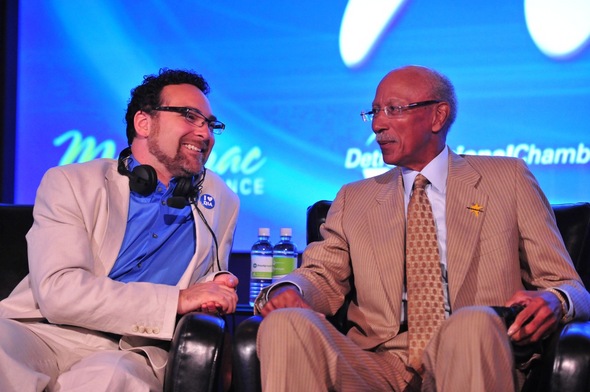 Ryan J. Stanton | AnnArbor.com

MACKINAC ISLAND — Washtenaw County's Conan Smith and Oakland County's L. Brooks Patterson traded a few jabs as Southeast Michigan's political Fab Five returned to the stage on Thursday to talk about regional collaboration.

Smith, an Ann Arbor resident and chairman of the Washtenaw County Board of Commissioners, said Washtenaw wants to be more involved in regional discussions.

"Until you pay your way in, I don't think you have a whole lot of say about how it's done," Patterson said, receiving a large burst of applause from the crowd.

The Republican county executive said he wants Washtenaw to put its money where its mouth is. He referenced a regional tax proposal for the Detroit Institute of Arts, a 0.2-mill levy going before voters in Wayne, Oakland and Macomb counties in August.

But it's not on the ballot in Washtenaw.

"Washtenaw is not in the DIA tax, Washtenaw is not in the SMART tax," Patterson told Smith. "All these institutions you want to protect, you don't have any skin in the game."

Smith, a Democrat, fired back.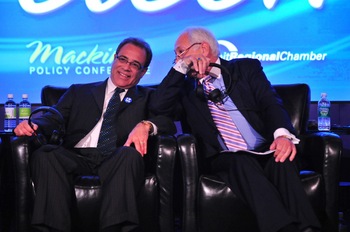 Ryan J. Stanton | AnnArbor.com
"What we are contributing to this region is an enormous amount of talent that drives this economy," he argued. "So we've got to make sure we're not fighting over little things like that, but leveraging everybody's strength to make this region really, truly strong."
That riled up Patterson even more.
"We all contribute talent. U of M is not the only talent base," he said, also cracking a joke at one point that Michigan's football team can't beat anybody.
If the DIA millage passes, it could raise up to $23 million a year for the institute and cost the owner of a $150,000 home $15 a year.
Meanwhile, the Detroit Zoological Society has considered asking voters to approve doubling the size of its millage in Macomb, Oakland and Wayne counties.
The Fab Five panel discussion was intended to be a discussion on regional collaboration and how Michigan can better compete in the global marketplace.
Smith and Patterson shared the stage with Detroit Mayor Dave Bing, Wayne County Executive Robert Ficano and Macomb County Executive Mark Hackel.
Bing said he's "absolutely" in favor of seeing a regional transit authority in Southeast Michigan and hinted at a meeting coming up Monday on the M-1 rail line in Detroit.
Ficano encouraged a long-range solution. He said if the region's leaders are serious about transit, they'll have to eventually combine all local assets under one authority.
"We need a regional authority," Hackel agreed.
Patterson sounded less convinced and posed the question: "How much is it going to cost and who's going to pay for it? The devil's in the details."
As regional leaders go about regional collaboration, Smith said it's OK for the different communities to hold onto their own individual identities. But, he said, "Detroit is our global brand and we need to make sure that brand is super strong."
At one point during the discussion, which took place as part of the Detroit Regional Chamber's Mackinac Policy Conference, moderator Paul W. Smith of WJR 760 asked a pointed question: "Do you guys ever really get together and have meetings as a group?"
Smith acknowledged feeling left out.
"It's hard to come back to my community and say 'participate in this regional tax' when you're not part of the conversation that creates it," he said.
"Bring your checkbook," Patterson told Smith, drawing laughs from the crowd. "You want to be part of the system, but you don't want to pay for it."