Posted on
Tue, Apr 19, 2011 : 5:56 a.m.
Radon and asbestos concerns in Ann Arbor city hall left police employees 'petrified about their health'
By Lee Higgins
Being exposed to high radon levels and possibly asbestos in the basement of Ann Arbor city hall sparked fear among police officers that was "off the charts," according to an email sent last year by a police union official to the city's safety manager.
A sworn affidavit by that same official says, "approximately 20 retired or current officers have reported some types of cancer that could be a result of asbestos or radon exposure."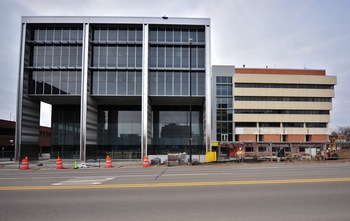 Ryan J. Stanton | AnnArbor.com
The email and affidavit by Officer Dawn King, who is the former vice president of the police officers' union, were included to support a whistleblower lawsuit King filed against the city last summer in Washtenaw County Circuit Court.
The documents illustrate the concerns among some in the police department about radon levels in the basement of city hall, where several police department offices were housed until 2009. Recently released city records indicate that the cancer-causing gas was present at levels seven times the federal safety level.
In the lawsuit, King alleged that she injured her shoulder and back at work and the city refused to reopen her accident fund compensation case as retaliation because she called the Michigan Occupational Safety and Health Administration last April to complain of elevated levels of carbon monoxide in city hall.
Washtenaw County Circuit Judge Timothy Connors dismissed the suit in February, but King is appealing. King declined to comment Monday on the suit or affidavit. The affidavit does not name the approximately 20 officers or describe their conditions.
City Attorney Stephen Postema said Connors made the correct decision in dismissing the lawsuit. "The circuit court correctly ruled that there was no factual or legal basis to the plaintiff's whistleblower claim, and, in fact, the plaintiff herself admitted that the city had no knowledge of her alleged anonymous report to even be a whistleblower," he said.
Records recently obtained by AnnArbor.com under the Freedom of Information Act show that radon levels in the city hall basement far exceeded amounts that pose cancer risks. Court records from the lawsuit show that police department employees had serious concerns about health risks from radon and asbestos, primarily in the basement, beginning as early as November 2008.
Police union officials suspect there may be a link between the radon and asbestos issues and the deaths of two officers. Vada Murray, 43, an Ann Arbor police officer for two decades and a former defensive back for the University of Michigan football team, died April 6, two-and-a-half years after a lung cancer diagnosis. Neither Murray, nor his parents, smoked. His diagnosis was consistent with mesothelioma, often caused by exposure to asbestos, the email says.
And Jason Zogaib, 35, a veteran of the department for more than 10 years, died March 13, 2009, after a two-year fight against leukemia.
In November 2008, King told Police Chief Barnett Jones about the union's environmental concerns, the affidavit says. Officers were given the go-ahead to begin moving out in February 2009 from the basement. However, concerns about potential exposure to asbestos continued into 2010, records show.
King sent an email on March 12, 2010, to City Safety Manager Bob Cariano and copied Jones, Deputy Police Chief John Seto, City Manager Roger Fraser and other people outlining the union's concerns.
According to the email, the union's concerns about radon and asbestos prompted it to query its membership and retirees about health issues.
"Within those two groups we have a very high percentage of sick people...illnesses that can be attributed to asbestos or radon," the email says.
Officers were concerned, the email says, because the building "was laden with asbestos and we had been walking amongst ceiling leaks, falling ceiling tiles with the suspicion that they or the ceiling space above contained asbestos." They asked to be moved out of the building during construction, but were denied, the email says.
Cariano did not return a phone call seeking comment.
Officer John Elkins, president of the police officers' union, known as the Ann Arbor Police Officers Association, said in a statement Monday that both the city and union have been aware of high radon levels in city hall since the early 1990s. He pointed specifically to high levels in the basement work spaces and basement locker rooms used by all police employees.
"On numerous occasions, the AAPOA has brought these high exposure levels to the attention of the city administration, with little to no actions taken to adequately and effectively mitigate these levels," Elkins said. "In addition to the exposure to elevated levels of radon, our members were exposed to both asbestos and mold throughout the former police facility, both of which carry health concerns that are in addition to those linked to high radon exposure."
Along with providing professional police services to city residents, Elkins said the union's priority continues to be the health and safety of its members and retirees that worked in the old police facility. He said the union will continue to fight to ensure current officers and retirees are provided adequate health care by the city.
In King's email, she appealed to people to reflect on the issue from the "mindset of a husband, wife, mother, father or grandparent."
"I can tell you that many AAPD employees are petrified about their health...." the email says.
"As police officers we are rarely 'petrified." Several of us have been shot at. (myself included). We get into physical altercations, walk into domestic situations at homes where the suspect has the upper hand, work on slippery expressways (where we watched a fellow firefighter lose her life), drive at high speeds in some circumstances, deal with felons who are armed and unarmed. This is part of what we do — and yes — sometimes we get concerned or anxious.
"But fear to the level that we are hearing with this building is off the charts."
Lee Higgins covers crime and courts for AnnArbor.com. He can be reached by phone at (734) 623-2527 and email at leehiggins@annarbor.com