Posted on
Tue, Apr 19, 2011 : 2:57 p.m.
Vada Murray believed radon, asbestos at Ann Arbor city hall caused his fatal lung cancer
By Juliana Keeping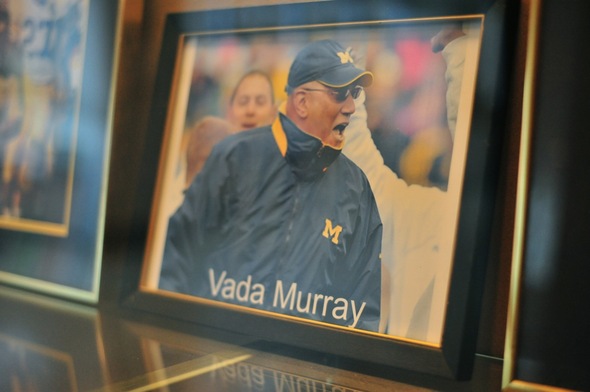 Ryan J. Stanton | AnnArbor.com
Vada Murray
filed a worker's compensation claim prior to his death, alleging that radon or asbestos at Ann Arbor's city hall caused his fatal lung cancer.
The workers' compensation case filed by the late Ann Arbor police officer and former University of Michigan football player in July 2009 pits Murray's family against a city that denies through its attorney that Murray's death can be tied to the city building.
Murray died April 6, two-and-a-half years after a lung cancer diagnosis.
The case could result in payment of outstanding medical bills and lost wages to Murray's family, said attorney Michael Otis, who did not name a figure.
A judge with the Michigan Workers' Compensation Agency will issue an opinion on the case. A trial date has not been scheduled.
Recently released city records indicate that radon, a cancer-causing gas, was present at levels seven times the federal safety level in the basement and first floor of city hall, where several police department offices were housed until 2009. Court records from an unrelated pending whistleblower's lawsuit show that police department employees had grave concerns about health risks from radon and also asbestos, primarily in the basement, beginning as early as November 2008, within a month of Murray's cancer diagnosis.
Ann Arbor News file photo
A radon mitigation system was installed in the basement in 1994 and it remained in place even as tests showed high radon levels in early 2009, when the offices were closed amid construction of the just-opened police-courts building.
Murray, who never smoked but was diagnosed with lung cancer in October 2008, gave video testimony at his home on March 3 that was recorded for later use after doctors found his cancer had spread to the 43-year-old's brain. He was too ill to leave home at that time, his wife, Sarah Murray, said.
During the March 3 video-recorded meeting, Murray Feldman, an attorney representing Ann Arbor, said no medical evidence had been presented that directly linked an exposure to radon or asbestos on the job to Murray's cancer, according to 47-page transcript.
Murray described his upbringing in Cincinnati, his family, involvement with sports and his time in Ann Arbor as a University of Michigan defensive back during his recorded testimony.
He also talked about his shocking cancer diagnosis and conditions in the basement of city hall, 100 N. Fifth St. in Ann Arbor, where he worked roughly 7 or 8 hours per week when not on the road or elsewhere in the building.
In the basement and first floor, the ceiling was always damp, always leaking, he said.
"Some guys used to get so mad, because, you know, stuff was leaking on them," he said. "They'd take their nightsticks and jab at it, and it would just come crumbling down. Water dripping down the wall. There were pipes with stuff around them that you wouldn't - you wouldn't want to touch."
That "stuff" was green and yellow.
Water consistently leaked in the ceiling tiles in the basement and the first floor, he said.
"There were times where you'd come in, and there's eight or nine buckets on throughout the floor catching water," he said.
Murray said that besides buckets on the floor, there were around 50 buckets in the ceiling to catch the water.
"The best way to put it, you can't take 25 bucks and try and fix a $100,000 ceiling."
Yet Feldman referenced a 16-page report by a U-M doctor hired by the city's insurance carrier to bolster the assertion that the city building could not be proven at fault.
The doctor's report concluded that though radon and asbestos were present at city hall while Murray was employed, exposure was not long or intense enough to cause lung cancer. The doctor's report explored city-commissioned tests for radon and asbestos, 2009 inspections by the Michigan Occupational Safety and Health Administration, various health studies and Murray's health records to reach its conclusion.
Asbestos was present in "various bulk building materials" while Murray was employed, the report states.
The doctor's report cites MIOSHA reports from 2009 that say asbestos in the building was "below required MIOSHA limits," but it was present in 2009 at low levels in the air.
"While it is well known that radon and asbestos are human lung carcinogens, the question I was asked to address was whether or not, within a reasonable degree of medical certainty, Mr. Murray's diagnosis of lung cancer in October 2008 was caused, aggravated, accelerated and/or contributed to by his alleged workplace exposures," writes Alfred Franzblau, an associate dean with the U-M School of Public Health who wrote the report Feldman referenced during the testimony. "The short answer is no."
Murray's attorney plans to produce an expert report that will support Sarah and Vada Murray's claim, Otis said.
The transcript also details how Murray was diagnosed with lung cancer following a doctor's visit for recurring pain in his chest and difficulty breathing.
Talking about the situation was emotional for Murray, who paused at times to collect himself.
"It ain't ... fair," Murray said as he described the struggle of doctors to try to control the cancer.
Murray lived three times longer than the typical late-stage lung cancer patient, said Greg Kalemkerian, Murray's doctor and the director of the U-M Comprehensive Cancer Center's Multidisciplinary Lung Cancer Clinic.
"He was a phenomenal physical specimen, and he was young. All those things worked in his favor, but overall, his disease was caught at a later stage," Kalemkerian said.
In the United States, roughly 20,000 to 25,000 individuals who have never smoked are diagnosed with lung cancer every year. About 160,000 people a year die from the disease in the U.S.
Radon and asbestos are known to cause lung cancer, Kalemkerian said, yet for those who don't smoke, the cause is difficult to pin down.
"For most people, people like Mr. Murray, who knows?" he said. "We don't know exactly, and there's no way to tell, even if you've got a non smokers cancer sitting in your hand, we don't have any tests to look for any specific cause."
As the family waits for the workers' compensation case to move forward, questions surrounding her husband's cancer diagnosis continue to haunt her, Sarah Murray said this week.
"I feel like I'm haunted by those questions," said Sarah Murray, who married Vada Murray in 2001. "It's all I can think about. How and why? How did this happen to Vada?"
Juliana Keeping covers general assignment and health and the environment for AnnArbor.com. Reach her at julianakeeping@annarbor.com or 734-623-2528. Follow Juliana Keeping on Twitter