Posted on
Sun, Nov 20, 2011 : 5:58 a.m.
Construction ahead: Ann Arbor officials set to break ground on Stadium bridges project
By Ryan J. Stanton
After years of waiting, and a period when there were concerns that football-sized chunks of concrete might fall on drivers, reconstruction of the Stadium bridges is really happening.
Ann Arbor officials plan to hold a ceremonial groundbreaking at 10 a.m. Monday near the site of the $22.8 million project, where State Street passes under East Stadium Boulevard.
Expected to attend are U.S. Rep. John Dingell, Michigan Department of Transportation Director Kirk Steudle and Russell Jorgensen of the Federal Highway Administration.
State Street will be temporarily closed in both directions at the site, perhaps a warmup exercise for the longer road closures and detours expected to start next week.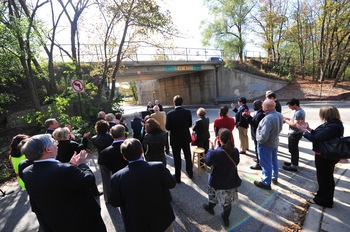 Ryan J. Stanton | AnnArbor.com
Senior project manager
Michael Nearing
and contractor
Parsons Brinckerhoff
have been meeting and working with businesses to minimize disruptions during construction.
Stadium Boulevard is expected to be closed to vehicular and pedestrian traffic starting Nov. 28 through December 2012.
State Street is expected to be closed Nov. 28 through Dec. 13 this year in the vicinity of the project. That's when crews will demolish the bridge span there and install new sewer.
The city has created a website with project information, including detour maps. The address for the site is www.annarborbridges.org.
Homayoon Pirooz, head of the city's project management unit, said there might be traffic issues early on, but he thinks motorists will catch on quickly.
"It is not unusual to have a few weeks of some traffic backups here and there until everyone gets used to the new detours, but we will have detours set up," he said. "And after the first few weeks, we're hoping people will get to know where they are and it won't be too bad."
Pirooz noted there was a similar detour plan in place two years ago when the city removed a portion of the crumbling bridge span over State Street.
"We had the same detour in place, and we had it in place for three or four days, and we didn't notice any serious problems," he said.
But having East Stadium Boulevard closed for more than a year is going to be different, Pirooz acknowledged. It's a major east-west corridor in Ann Arbor, and it's a vital link to the University of Michigan football stadium and Pioneer High School.
Motorists are just going to have to adapt to alternate routes, Pirooz said, and that goes for many football fans starting next fall.
"We are taking the westbound approach to the stadium out of the system," he said. "But since there's plenty of time, both us and U of M have been working for better planning for the next football season, and hopefully by the time we get there, we'll have everything under control."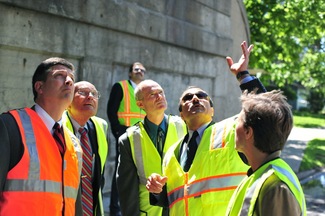 Ryan J. Stanton | AnnArbor.com
Mayor
John Hieftje
recalled the reconstruction of the Broadway bridges in 2003 and 2004 and said he thinks the Stadium bridges project will go smoother from a traffic standpoint.
"People got used to it pretty quickly and there were probably fewer ways around it than there are around Stadium bridges," he said of the Broadway bridges project. "You had to go to the Fuller bridge to get over (the Huron River) and that was it."
The long-awaited Stadium bridges project includes removal and replacement of the existing bridge spans over State Street and the nearby Ann Arbor Railroad tracks, staircase construction at State Street, pedestrian tunnel extensions, installation of retaining walls, replacement of storm sewer and water main, and enhancements to Rose White Park.
Stadium will be reconstructed from Kipke Drive to South Industrial Highway and State will be reconstructed from Henry Street to Rose Avenue.
City officials said this past week the bridge span over State Street and the adjacent span over the Ann Arbor Railroad tracks both were built in 1928. The city previously believed the span over State was built in 1917.
Since January 2009, traffic has been reduced to one lane in each direction on the north side of the bridge after an inspection revealed problems with at least one of the beams.
The city received a $13.9 million federal grant for the project, plus another $2.9 million in grant funding from the state.
City officials have pointed out the project includes improved sight distances, the addition of on-street bike lanes, sidewalks on both sides of the road, improved street lighting, greater vertical and horizontal clearances for both bridge spans, construction of a sidewalk on the west side of State and improved pedestrian access to Stadium via new staircases at State.
The upgrades at Rose White Park, as well as landscaping and site restoration, are expected to happen between summer and fall 2012.
The project completion date is May 30, 2013.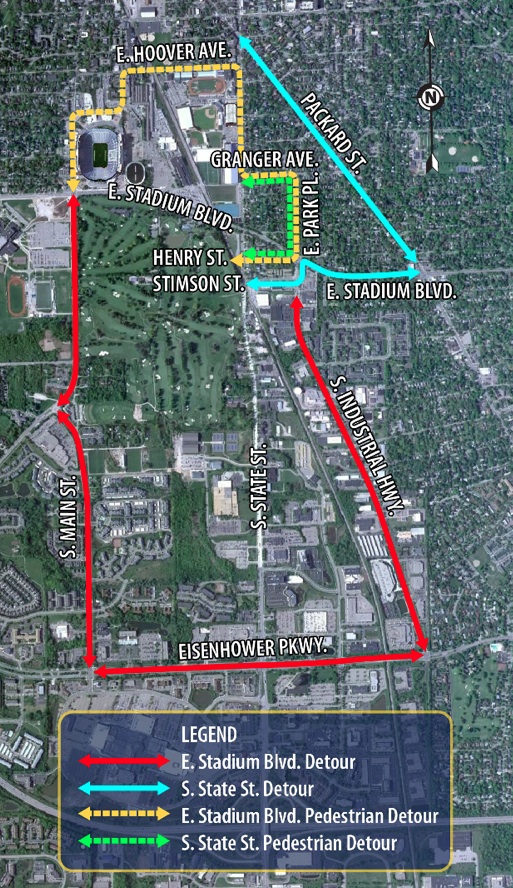 Ryan J. Stanton covers government and politics for AnnArbor.com. Reach him at ryanstanton@annarbor.com or 734-623-2529. You also can follow him on Twitter or subscribe to AnnArbor.com's e-mail newsletters.