Posted on
Mon, Oct 24, 2011 : 6:43 p.m.
Stadium bridges project to begin Nov. 28 and include radiant-heat staircases
By Ryan J. Stanton
The end of the University of Michigan football season will mean the start of reconstruction of the East Stadium Boulevard bridges in Ann Arbor.
Ann Arbor officials just released the latest schedule for the $22.8 million project, and it shows the work beginning after the Ohio State game at the end of November.
Stadium Boulevard will be closed to vehicular and pedestrian traffic starting Nov. 28 through most of 2012.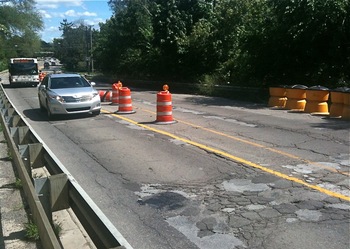 Ryan J. Stanton | AnnArbor.com
South State Street also will be closed Nov. 28 through Dec. 13 this year in the vicinity of the project. That's when crews will demolish the bridge span there and install needed storm and sanitary sewers that will be utilized in subsequent phases of the project.
The city has created a website with up-to-date project information, including construction schedule progress, impending traffic pattern changes, detour maps, project contact information, meeting notices, brochures, and project photos.
The project includes removal and replacement of the existing Stadium bridge spans over State Street and the nearby Ann Arbor Railroad tracks, staircase construction at State Street, pedestrian tunnel extensions, installation of retaining walls and replacement of storm sewer and water main, and enhancements to Rose White Park.
Stadium will be reconstructed from Kipke Drive to South Industrial Highway and State will be reconstructed from Henry Street to Rose Avenue.
City officials pointed out the project includes improved sight distances, the addition of on-street bike lanes, sidewalks on both sides of the road, improved street lighting, greater vertical and horizontal clearances for both bridge spans, construction of a sidewalk on the west side of State and improved pedestrian access to Stadium via new staircases at State.
The upgrades at Rose White Park, as well as landscaping and site restoration, are expected to happen between summer and fall 2012.
The current schedule calls for reopening Stadium to traffic in December 2012. Project completion and final restoration is expected by May 30, 2013.
The Ann Arbor City Council voted unanimously last week in favor of an agreement between the Michigan Department of Transportation and the city for the project.
MDOT received the construction bids for the project last month and awarded the main contract to Dan's Excavating Inc. for $13.9 million, the lowest of five bids. The other four bids ranged from $14.3 million to $16.5 million. The engineer's estimate was $18.1 million.
Homayoon Pirooz, head of the city's project management unit, said Dan's Excavating has done good work on some of the city's past major construction projects.
Pirooz said the current estimate for the total project cost — including all prior expenses, but excluding contingencies for the future construction — is $22.8 million. The city-state agreement will include an amount determined by MDOT for construction contingencies that will be shared 80-20 by the state and city.
The city received a $13.9 million federal grant for the project, plus another $2.9 million in grant funding from the state.
Mayor John Hieftje said in hindsight he's happy to say the city was right to continue on the path of seeking state and federal funding for the Stadium bridges project last year, even though some residents were calling for using city funds to rebuild the bridges earlier.
"It's very nice to look back now and know we made the right decision," he said. "And it's great to see the project going forward, and wonderful to have a start date right in front of us."
Michael Nearing, city engineer and senior project manager, gave an update on the Stadium bridges project at last week's City Council meeting. He talked about the two staircases that will help pedestrians navigate between State and Stadium — one on the northwest corner of the bridge over State, adjacent to the U-M field hockey area, and one at the southeast corner.
"So we'll have two staircases. They're pretty simple really," he said. "They're several flights of stairs, rising up from State Street up to Stadium, on both quadrants. We have bike channels in them so, for example, you could walk your bike up the stairs and get up to Stadium, or you could walk your bike down from Stadium to State Street."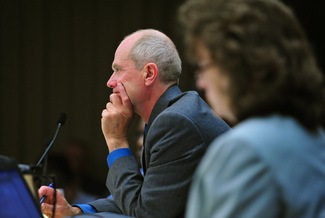 Ryan J. Stanton | AnnArbor.com
He said there will be some minor architectural details put into the walls so they won't appear as simply large slabs of concrete. He added the city's staff is working with the Public Art Commission about the possibility of a public art installation as part of the bridge project.
Nearing also talked about a radiant heat — or a passive snow-melting system — that is being built into the staircases. He said it'll act basically like an electric blanket.
"That will be cast into the concrete," he said. "There'll be sensors in the staircases that will measure both the temperature and the precipitation/humidity, so they will automatically turn on when the weather gets to be a certain temperature. And if there's, for example, precipitation out there, it'll melt the snow and won't require shoveling."
That impressed council members.
"I love the idea of radiant heating. I think it's brilliant. I'm sure many of us would like to see that in front of our houses," said Council Member Sabra Briere, D-1st Ward.
As part of the project's construction, the city will reconstruct a portion of State beginning May 3, 2012. City officials expect the work on State to be completed by July 11, 2012.
During the work on State, the city will maintain one lane of southbound traffic and detour northbound traffic along Packard to Stadium to South Industrial Highway to Stimpson back to State. Pirooz said the city will be closely monitoring traffic along the detour routes.
"Project staff will be ready to make adjustments as needed in order to optimize the performance of the detour route," he told council members. "We expect traffic to adapt to the detour routes and normalize after a few weeks. This is common on these types of projects."
Ryan J. Stanton covers government and politics for AnnArbor.com. Reach him at ryanstanton@annarbor.com or 734-623-2529. You also can follow him on Twitter or subscribe to AnnArbor.com's e-mail newsletters.