Posted on
Mon, Sep 13, 2010 : 4:32 p.m.
Costumed protestors in Ann Arbor call Rick Snyder a 'chicken' for 'ducking' debates
By Ryan J. Stanton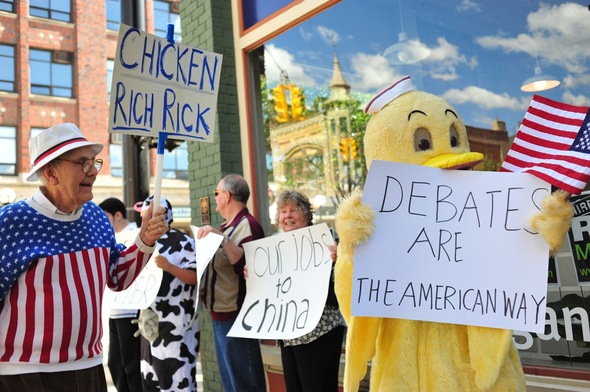 Ryan J. Stanton | AnnArbor.com
About a dozen protestors — including a duck, a chicken and a cow — took to the streets of downtown Ann Arbor this afternoon to picket outside the campaign office of Republican gubernatorial candidate Rick Snyder.
Carrying signs that called Snyder a "chicken" for "ducking" debates with Democratic nominee Virg Bernero, the protestors marched up and down the sidewalks.
"We're out here to really stress the critical need for Rick Snyder to accept debates," said Jamaine Dickens, spokesman for the Michigan Democratic Coordinated Campaign.
Ryan J. Stanton | AnnArbor.com
"Ducking these debates and ignoring these debates is not an affront to Virg Bernero," he said. "It's really an affront to the state of Michigan, the voters in this state who really deserve an opportunity to kick the tires on these two candidates. Anywhere in America that you go and seek a job, you have to sit down with an employer for an interview."
Bernero went on the attack against his Republican opponent over the weekend, calling Snyder a "wimp" for backing out of debating against him. Snyder unilaterally called off all debate negotiations on Friday after the two campaigns failed to come to an agreement on terms for three debates that Snyder had proposed.
Bernero's campaign said today it agreed to almost all of Snyder's demands and was willing to finish discussing details, but Snyder won't come back to the table.
Snyder spokesman Bill Nowling told AnnArbor.com today "there's no more negotiations." He said it became clear last week that Bernero was more interested in making a splash in the media than actually working out details of any debates with Snyder.
"We're tired of this political gamesmanship. We've been sitting down for the last five weeks, and very earnestly for the last two weeks, to get something done," Nowling said of the debate negotiations. "For someone who says they would debate anytime, anywhere, under any rules, you'd think they would have accepted our proposals by now."
The last time Michigan's two major party candidates for governor didn't debate was in 1998, when Republican incumbent Gov. John Engler refused to appear with Democratic candidate Geoffrey Fieger. Fieger aired TV ads showing a chicken running around, and called Engler a "chicken" for ducking debates. Engler still won a third term in a landslide.
University of Michigan student Hari Vutukuru wore a chicken costume as he protested outside Snyder's office today. Another student wore a yellow duck costume.
"I think it's sad and pathetic that Mr. Snyder doesn't want to debate," he said, holding a sign calling Snyder a chicken. "I mean, considering where our state is right now — we're dead last in terms of unemployment, job growth and economic development — and here you have someone who doesn't want to answer the people's questions."
Vinay Ramanathan, another U-M student, wore a cow suit — a nod to Snyder's tenure with Gateway Computers, known for its spotted boxes patterned after cow markings. He was part of a trio of protestors holding signs that read: "Rick Snyder moooves our jobs to China."
"Virg Bernero has been tested," Ramanathan said of his reasons for favoring Bernero. "As the mayor of Lansing, he's balanced the budget five times. He has a track record where he's proven that he can do things. And he seems to have the best plan to move Michigan forward."
Stuart Dowty, chairman of the Washtenaw County Democratic Party, joined in today's protest. He said if the two candidates debated, Michigan voters could see who is the real job creator.
"Snyder's history is outsourcing jobs to Asia, manipulating stocks and derivatives and things like that to make money," he said. "We need somebody who represents a policy where you build the economy by manufacturing things, real things, that are made in Michigan."
Snyder is credited for growing jobs as president of computer maker Gateway, but the company later announced it would begin outsourcing manufacturing and some service functions in 2003 when Snyder was on the board of directors but was no longer president.
Doug Kelley, dressed in American flag garb, held a sign that read: "Chicken Rich Rick."
"My understanding is that Rick's firm did a whale of a lot of outsourcing and that, when he left, there was a multimillion-dollar severance package," he said. "I think when you elect a multimillionaire, you get policies that suit multimillionaires and not all of the rest of us. Virg Bernero has shown that he can economize in government without raising taxes, without mass layoffs, and he has working people's interests in mind."
Ann Arbor resident Stephen Landes, a Republican who is volunteering for Snyder's campaign, stopped by outside Snyder's office as today's protest was getting under way.
"From my perspective, Rick made a good faith offer to do debates," Landes said. "Mr. Bernero seems to want to delay things until there's no reasonable way of holding the debates and then claim that Rick is the problem. It's the typical, old-line, political-party-hack kind of approach, and I don't think it makes much sense in this state. We don't need that anymore."
Nowling said Snyder has done 58 town hall meetings and plans to do about 17 more before Election Day on Nov. 2. He said Snyder is accessible at his town hall forums and will candidly and publicly answer any questions that audience members ask him.
"I don't think people are buying that Rick is running from anything," Nowling said, noting that Snyder and Bernero have appeared side-by-side six times. "They're going to be on the same stage on Friday in Grand Rapids. There's been ample opportunity to see these guys."
Bernero sent a letter to television stations all across the state on Sunday, encouraging them to set fair debate formats of their choosing and invite both candidates to attend, negating the need for negotiations between the campaigns. Bernero announced today he has accepted an offer to attend a debate hosted by WXYZ-TV in Detroit on Oct. 21.
WXYZ, in partnership with WWJ Newsradio 950 and Crain's Detroit Business, originally sent invitations to candidates to debate in August, as did many other Michigan television stations. Bernero said he accepted three offers and planned to accept more, but Snyder wanted to hold debate negotiations to select particular stations and prearranged conditions.
"We don't need any more political wheeling and dealing," Bernero said in a statement today. "I say let neutral parties set fair and common sense terms, I'll show up, and hopefully Mr. Snyder will join me in participating in the Democratic process."
Ryan J. Stanton covers government and politics for AnnArbor.com. Reach him at ryanstanton@annarbor.com or 734-623-2529.