Posted on
Mon, Sep 13, 2010 : 6:01 a.m.
Not only is Rick Snyder a nerd, he's also a wimp, says Virg Bernero
By Ryan J. Stanton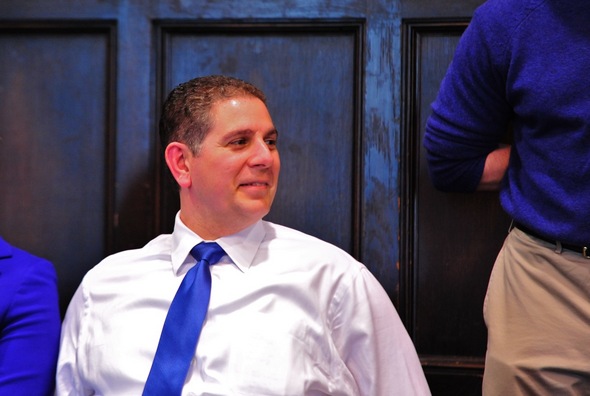 Ryan J. Stanton | AnnArbor.com
Michigan gubernatorial candidate Virg Bernero went on the attack against his Republican opponent on Sunday in Ann Arbor, calling Rick Snyder a "wimp" for backing out of debates.
"You know, he's refused to debate," Bernero told a crowd of about 100 people gathered inside the Michigan Union. "Apparently not only is he a nerd, but a wimp."
Bernero arrived on campus mid-afternoon to address the College Democrats at the University of Michigan — about an hour after a news conference in Detroit where he demanded that Snyder, the self-professed "tough nerd," live up to his reputation and engage him in debate.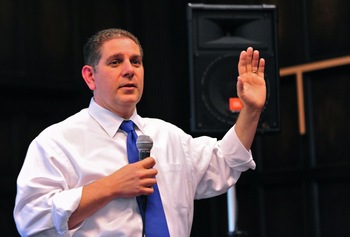 Ryan J. Stanton | AnnArbor.com
Snyder, an Ann Arbor venture capitalist, unilaterally ended debate negotiations between the two campaigns on Friday. Bernero called that a "slap in the face" to Michigan voters who want to compare the two candidates side-by-side.
Bernero, an energetic speaker who political experts say stands to gain more from going head-to-head with his opponent, had called for eight televised debates. Snyder wanted three.
Bernero's campaign announced on Friday that he had agreed to most of Snyder's debate terms, and three debates would happen. But then Snyder backed out entirely.
Snyder said on Sunday negotiations failed in part because Bernero released the debate terms to the media before they were agreed upon. "I said enough of this, and we made our final best offer, and it was turned down," Snyder told the Detroit Free Press.
Bernero is now calling on local television stations across the state to set up debates and invite both candidates. Snyder has yet to express any interest.
Addressing a crowd of mostly U-M students in Ann Arbor, Bernero talked about the differences between himself and Snyder — with a Democrats-versus-Republicans theme. He placed emphasis on his track record of working in government, noting that he and his running mate, Southfield Mayor Brenda Lawrence, make up the state's first two-mayor ticket.
"We get it. We're on the front lines," Bernero said. "We're the ones that make sure that the 911 calls get answered, that the potholes get filled, that the garbage gets picked up. You know, we're the ones that have to deal with the home foreclosures."
Bernero spoke of investing in cities like Detroit, which he called "the face of Michigan." He said the urban cities need to be the "hub of the wheel" instead of the "hole of the doughnut."
On that same note, Bernero offered specifics about his strategy to help grow and diversify the state's economy in the coming years.
"We need green enterprise zones to reuse those old sites, those old facilities," he said. "We need foreign investment zones ... to encourage foreign investment dollars here instead of having just our jobs go overseas — to actually invite and encourage foreign investment in this country. We have some tools available that we haven't used, so we're going to do that."
Access to capital is another challenge, Bernero said.
"There's a lot of people that have great ideas right now, that have great businesses now that could expand, but they cannot get a loan because Wall Street has redlined Michigan," he said. "So I have a proposal for a state bank. One other state in the union has done it: North Dakota. It puts $30 million a year into state coffers in addition to the economic activity that it stimulates. So there are things we can do right now, and we must."
Bernero called Michigan "ground zero" in the fight for the American Dream. He said he would work with President Barack Obama and Congress to preserve manufacturing jobs.
"I'm going to be pushing for fair trade instead of free trade because it matters," he said. "All we're asking for is a level playing field. If we get a level playing field, we win. We have the most productive workers in the world. Look at the Detroit Three. They're back on top, according to JD Power. We knew what we were capable of. The Republicans said, 'Let them die on the vine.'"
Talking about what prompted him to run for governor, Bernero said he reached his decision several months ago after reading the plans put out by Snyder and other Republicans.
"I studied their plans and I said, 'My goodness, I can write a better plan than this. Like, in one night, I can write a better plan than this,'" he said.
Bernero criticized Snyder's viewpoint on manufacturing.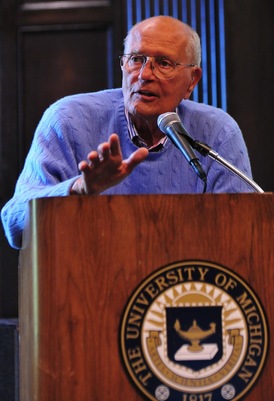 Ryan J. Stanton | AnnArbor.com
"We're not giving up on advanced manufacturing," Bernero said. "We're a manufacturing state. In fact, the Midwest, we're still heavily dependent on manufacturing. My opponent says, manufacturing, 'it's time to put that to bed.' That's a term he used — 'put that to bed and move on.' Think about that for a minute because you guys are smart. Move on from manufacturing, as though manufacturing is something archaic? That's what he wants people to believe."
Bernero acknowledged he's 20 points behind Snyder in the polls right now, but said the only poll that matters is on Election Day — and he already overcame similar odds to win in the primary. Bernero said he believes voters will change their minds when they learn about his record.
"As mayor, I've done it," he said.
U.S. Congressman John Dingell, D-Dearborn, and state Sen. Glenn Anderson, D-Westland, also made appearances at Sunday's meeting. Both are seeking reelection and stressed the importance of fighting for their party's representation in Lansing and Washington, D.C.
"We are only four seats away from taking the majority in the Michigan Senate," Anderson noted. "And you don't know how painful that is to go in there every day and see the Republicans in control, stopping everything that would make a difference to everybody in this room, and we need to change that. They've been in control for, I believe, 26 years."
Dingell blamed the nation's ongoing economic problems on the Republicans, suggesting they're the ones who should take responsibility for the depression inherited by Obama.
"They left President Obama two wars, they left President Obama a depression, and they left President Obama an economic downturn and a deficit of $1.3 trillion," Dingell said. "And now they're a little like the fella who blamed the fire department for the fire that they were putting out, or like the rooster that bragged about his crowing, which he said made the sun rise."
Bernero also took a few shots at the GOP. He recalled the story of how he first realized he was a Democrat, back in the fifth grade when his teacher was writing on the chalkboard.
"It was our introduction to political parties and she wrote, 'Democrats for the working person,' and she put, 'Republicans for the rich.' I thought, 'Well, we're not rich, and my dad does work hard. I must be a Democrat,'" Bernero said with a laugh.
"You can say, 'Well, that's very simplistic,' on one end," he acknowledged. "But then again, I'm 46 years old, I'm running for governor, I've been a county commissioner, state rep, state senator, mayor ... and from what I can see, she was right on."
Ryan J. Stanton covers government and politics for AnnArbor.com. Reach him at ryanstanton@annarbor.com or 734-623-2529.