Posted on
Sun, May 27, 2012 : 5:59 a.m.
Could Southeast Michigan become the next Silicon Valley? Ann Arbor's real-world 3,000-car wireless project may decide
By Kellie Woodhouse
USDOT photo
The future of driving is changing— and fast. In the near future drivers may not be driving at all, but minimally assisting or maybe just siting idly, along for the ride.
Intelligent vehicles —cars that tell drivers when they're at risk and eventually cars that decide for themselves when to merge and which route to take— are on the precipice, experts say.
And so is Southeast Michigan.
In less than three months, 3,000 cars with state-of-the-art wireless communication systems will be driving around Ann Arbor as part of a University of Michigan and U.S. Department of Transportation experiment: the largest real-world intelligent vehicle deployment ever conducted in North America.
Top transportation officials and experts are speculating that major automobile manufacturers and intelligent systems companies will likely come to Ann Arbor, wanting to test their technology in a large, global nucleus of connected vehicles.
"This is huge for Michigan, huge for the university and huge for the city," said Kirk T. Steudle, director of the Michigan Department of Transportation. "This area becomes the epicenter of connected vehicle research."
U-M's Transportation Research Institute last year won a multimillion dollar award from USDOT to deploy 3,000 intelligent vehicles in Ann Arbor. Those vehicles will have the ability to interact with one another and with devices on roadways so drivers are alerted of safety threats, traffic issues and suggested route changes due to the two.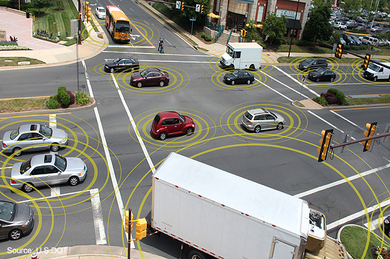 USDOT photo
The deployment pilot is part of USDOT's strategic plan to greatly reduce car accidents by using machines to communicate in ways and at a pace that drivers simply can't. And if all goes well in Michigan, USDOT will be looking to make some major regulatory changes starting in 2013, including possibly mandating the use of connected vehicle technology, according to a USDOT strategic plan.
The $22 million deployment project —$18 million of which is funded by USDOT— is also part of a growing emphasis on intelligent vehicle and autonomous machine research at U-M. According to U-M Vice President for Research Stephen Forrest, the connected vehicle deployment "is just the first of many things we have in mind."
Forrest said UMTRI researchers are also perfecting developments for the autonomous vehicle, a technology Google already is testing on Nevada roadways.
"We're in the middle of reinventing the automobile and this safety pilot is a really big chunk of that," Forrest said. "There are tremendous opportunities here to build the latest and newest."
Yet before UMTRI was awarded the contract last fall, landing the it was hardly a sure thing.
Other schools and research corridors with a stake in connected vehicle research fought to secure the deal. Virginia Tech University is engaged in two USDOT-funded connected vehicle research projects and Carnegie Mellon University recently received $3.5 million from USDOT to explore technologies that increase vehicle safety.
Ron Medford, deputy administrator for the National Highway Traffic Safety Administration and a key player in federal connected vehicle research, said U-M won out because "they had the best value and the best experimental design... (and) some previous experience."
The contract helps U-M remain a major player in cutting-edge vehicle technologies and landing it raised its profile even further. It also laid the groundwork for the southeast part of the state to become an incubator of intelligent vehicle research.
"If you think about where the next Silicon Valley could arise, I really do believe that Michigan is the place," Forrest said.
Forrest said Ann Arbor- and Detroit-area manufacturers and institutions have "never been collaborative and cooperative" enough to fully secure Michigan's continued prominence in a quickly changing automotive industry, but contends this newest project could turn that tide. He noted that the 'Big Three,' Ford, General Motors and Chrysler, are accompanied by a myriad of niche manufacturers and innovators along with a growing research corridor that includes U-M, Michigan State University and Wayne State University and conducts $1.878 billion in federal research annually.
According to Medford "the people who are already working on connected vehicle manufacturing [are] mostly in the Detroit-area. Many of them have technical centers there."
Of the eight companies providing wireless infrastructure for the deployment, three —including Denso International of America, DGE, Inc., and Auto Talks Ltd.— are either based in Michigan or have U.S. headquarters in Michigan. Three others are based out of California, one out of Australia and another out of Austria with U.S. headquarters in Virginia. Additionally a handful of Detroit-area auto companies are providing 128 new vehicles with integrated wireless systems for the study.
"What's happening in Ann Arbor is an assembling of the pieces that have been developed across the country, a lot of it in Michigan," said Richard Wallace, director of transportation systems analysis at the Center for Automotive Research.
Wallace noted that while U-M is creating a research design and framework for the deployment, it's testing technologies created and developed by other entities.
"It remains to be seen how this impacts things. I wouldn't expect, personally, a company that is based elsewhere and is developing the communications hardware for this technology will necessarily relocate to Michigan," he continued. The deployment may, however, encourage new start-ups to headquarter in Michigan.
It could also spur new collaborations, Wallace surmised. For example, Siemens, a traffic light and management systems developer with a presence in Michigan, might want to test wireless traffic signal controls that can communicate with the deployed vehicles, Wallace offered.
Jim Sayer, UMTRI Safety Pilot program manager and associate research scientist, said companies unaffiliated with the model deployment will be allowed to test their wireless technologies alongside affiliated vehicles and the 29 Ann Arbor locations that will have roadside wireless infrastructure.
Want to participate?
"We would love to have the test site support any companies that wanted to develop products here and certainly with the level of involvement of auto manufacturers, all of whom have some facilities in southeast Michigan, where better to place it?" Sayer said, adding that there's a chance the roadside infrastructure will remain in place after the year-long study ends summer 2013.
Steudle, who sits on UMTRI's external advisory board, said U-M and the state "are trying to figure out how we leverage this further."
"There's an economic development component to us maintaining our technological expertise," he explained. "How do we market this [and get companies to say] 'Hey, they already have this infrastructure, we can just do this [development] in Ann Arbor."
Steudle recalls when a press release from Minnesota came across his desk seven years ago, when Michigan's economy was floundering. The release told of a new development partnership between Minnesota and Ford.
"That's a bad deal. We can't have these high-paid engineers moving to Minnesota. We need to be providing whatever infrastructure they need," he said. "There's a big component of economic development and economic preservation to this."
Kellie Woodhouse covers higher education for AnnArbor.com. Reach her at kelliewoodhouse@annarbor.com or 734-623-4602 and follow her on twitter.