Posted on
Mon, Jul 2, 2012 : 5:59 a.m.
Michigan Stadium now open for weddings
By Kellie Woodhouse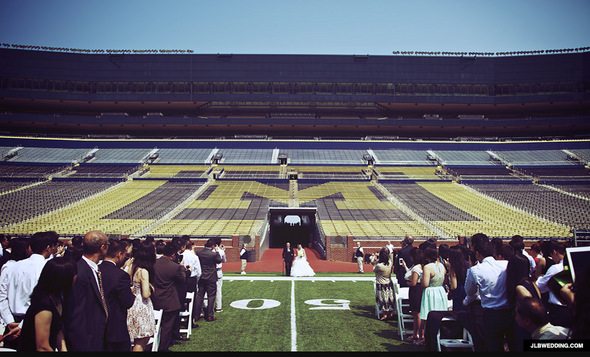 Photo courtesy of Jeffrey Bennett.
Andy Li
and
Elaine Ng
knew they wanted to get married at or near their alma mater, the
University of Michigan
.
They originally thought the Michigan Union, or maybe the art museum, but when Ng happened across an article in which U-M Athletic Director David Brandon said he was thinking about allowing weddings at the Big House the couple was sold.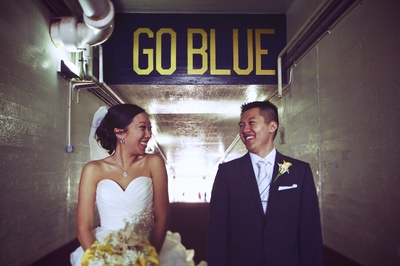 Photo courtesy of Jeffrey Bennett.
Soon afterward, Ng contacted athletics event coordinator
Katy Hepner
and booked a spring wedding at
Michigan Stadium
at a cost of $13,000.
"That's where we met. That's where we fell in love and we spent a lot of our Saturdays when we were in school there." said Li.
The couple got married May 27, 2012, in one of the first stadium weddings in Ann Arbor. Ng got ready in the home locker room, touching up her makeup in the same room Brady Hoke offers his players last-minute pep talks before a big game.
While most brides walk down a church isle, Ng walked down the tunnel that Wolverine football players normally enter the stadium through. Instead of 110,000 fans cheering, Ng and Li's closest friends looked on, ushering the couple into their newest milestone.
"Walking down the tunnel is like the coolest thing in the world. When you watch football games the anticipation is high. You're just waiting for the team to come out," said Ng. "It was kind of like that for me... the tunnel was very long. It's a pretty long walk so people have more time to look at you."
As the couple and their bridal party took photos, guests wandered the field, kicking field goals and faking touchdowns on the very turf that Denard Robinson threw the Hail Mary pass that allowed Michigan to win against Notre Dame in the final seconds of their match last season.
"It's unique, it can't be replicated," said Hepner, the athletics event coordinator.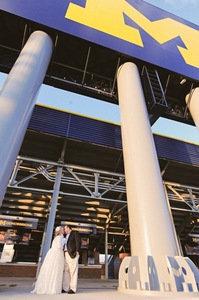 Photo courtesy of A Girl In Love Photography
Hepner says there have been five weddings at the Big House so far and there are seven more scheduled for the season. There have also been two wedding showers.
"Weddings have definitely been a big chunk of our business," Hepner said. Michigan Stadium can also be used for corporate events.
The cost is $6,000 to have the ceremony on the field, $9,000 to have the reception in the club area and $13,000 for both. Alumni and university employees do not receive discounts and catering is not included.
The first Big House wedding in recent history took place on January 28. Combined, Matt and Katie Ursitti families had purchased season tickets to U-M football games for 60 years.
"In our immediate family there are seven people who are alumns of U-M. My husband graduated in 94" from the business school, said Katie Ursitti. "It's part of our family tradition."
Brandon said recently that he wants to leverage the Big House financially, beyond athletic events. Brandon doesn't want Michigan Stadium, which recently underwent a $226 million renovation, to sit empty as much as it has in recent years. Last year it went unused roughly 340 days, or about 93 percent of the time.
Kellie Woodhouse covers higher education for AnnArbor.com. Reach her at kelliewoodhouse@annarbor.com or 734-623-4602 and follow her on twitter.