Posted on
Tue, Jun 28, 2011 : 12:58 p.m.
Nurses union at U-M hospitals asked for 'major concessions' as contract ends Thursday
By Juliana Keeping
The University of Michigan Health System and a 4,000-member nurses union have until Thursday to agree on a new contract — and key differences remain.
UMHS is asking nurses for "major concessions" in benefits while it spends millions of dollars on new buildings, the union bargaining for nurses said a statement on the contract negotiations released today.
Tony Denton, the chief operating officer of U-M Hospitals and Health Centers, said in a statement U-M has asked the union for an increase cost-sharing for members' health care benefits, which has already occurred among other groups of U-M employees.
"Similar changes have already been made for non-union faculty and staff, and in other U-M labor contracts that have come up for negotiation during the past three years," Denton said in a statement today.
The current contract for nurses who belong to the University of Michigan Professional Nurse Council was ratified in 2008 and expires June 30. The two sides have been negotiating a new contract since April.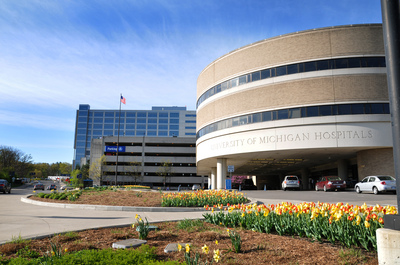 University of Michigan Health System photo
John Karebian, the executive director of the Michigan Nurses Association, the collective bargaining representative for UMPNC, said in a statement there are no plans for a strike as of today.
After June 30, "decisions will be made by both parties on the progress of the negotiations," he said.
Points of contention include health insurance, retirement, overtime and paid time off usage.
One issue for the union is the amount U-M is spending on new buildings, Karebian said.
"Currently, this employer is spending millions of dollars on huge building projects and then making up for their budget issues by asking the nurses for major concessions in benefits and the way nurses determine how best to provide for their patients," Karebian's statement says.
UMHS faces a difficult budget, with two massive undertakings, including a new children and women's hospital, projected to squeeze the UMHS finances into the red by $23.5 million in the fiscal year that begins July 1.
The new children and women's hospital, scheduled to open in November, and the first phase of MiChart, a new information technology system for U-M clinical care and billing mean a negative operating margin after 15 years of gains, Doug Strong, the chief executive officer of U-M Hospitals and Health Centers, told the U-M Board of Regents June 16. The regents approved the $2.1 billion UMHS budget at that meeting.
Members of the union include staff nurses and advanced practice nurses such as nurse practitioners, nurse anesthetists and certified nurse midwives.
Juliana Keeping covers general assignment and health and the environment for AnnArbor.com. Reach her at julianakeeping@annarbor.com or 734-623-2528. Follow Juliana Keeping on Twitter