Posted on
Thu, Jun 16, 2011 : 4:54 p.m.
New C.S. Mott Hospital among projects that will strain University of Michigan Health System budget in 2012
By Juliana Keeping
Opening the new C.S. Mott Children's Hospital and Von Voigtlander Women's Hospital is a massive financial undertaking that will initially strain the University of Michigan Health System budget.
The University of Michigan Board of Regents, whose reach includes the health system's three hospitals and 40 outpatient locations, approved the $2.1 billion budget at its monthly meeting today in Ann Arbor. The fiscal year 2011 budget cycle comes to a close June 30.
The new children and women's hospital, scheduled to open in November, is one of two massive undertakings projected to squeeze the budget into the red by about $23.5 million in 2012. The expected shortfall will follow 15 years of positive operating margins for the health system, Doug Strong, the chief executive officer of U-M Hospitals and Health Centers, told the U-M Board of Regents Thursday.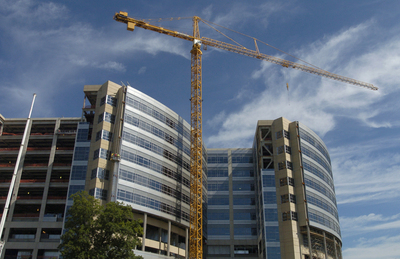 The first phase of MiChart, a new information technology system for U-M clinical care and billing, is the second large undertaking straining the UMHS budget. While the health system is committing to the rollout of the MiChart in phases, it could cost as much as $250 million in the next decade, Strong said. Planning for the electronic record and billing system has already begun.
Though health-care reform calls for the use of standardized billing and electronic health records beginning in late 2012, Strong said the switch to MiChart aligns with the health system's goals to continuously improve patient care and is not driven by the federal Affordable Care Act.
"Information is at the heart of patient care," he said.
Strong added that federal stimulus money could be made available to offset the cost of MiChart.
Start-up costs for the new C.S. Mott will amount to $70 million during its first year of operation, he said.
Large-scale projects like these will mean the health system will be able to accommodate more patients in future decades, Strong told the regents.
In a report to the regents, Strong also said the health system expects a positive financial year for the 2011 budget cycle ending June 30.
Revenues are expected to outpace health system expenses by 2.1 percent, a result Strong cited as a major success in the face of an increase in charity care, unpaid hospital bills and more patients using Medicaid and Medicare to pay for health care.
UMHS revenues typically amount to about $2 billion a year.
Just under half of revenues are reimbursements from the federal government via Medicaid and Medicare.
Strong said in May hospitals lose money due to the mechanism by which the cash-strapped state or federal government chooses to repay hospitals for services under these programs. Hospitals currently make up for the loss through commercial insurance plans.
The strong demand for patient care from UMHS resulted in the expected positive financial year, despite the lingering effects of a state economy left reeling in the wake of economic collapse.
The hospital saw an increase in patient activity of about 3 percent in the 2011 fiscal year over 2010, Strong said. Patients came to UMHS from every county in Michigan as well as from other states and nations. That demand "increased our productivity while containing cost growth," Strong said.
Strong oversees University Hospital, C.S. Mott Children's and Women's Hospital, 30 health centers and 120 outpatient clinics.
Juliana Keeping covers general assignment and health and the environment for AnnArbor.com. Reach her at julianakeeping@annarbor.com or 734-623-2528. Follow Juliana Keeping on Twitter