Posted on
Wed, Aug 1, 2012 : 12:20 p.m.
Georgetown Mall: County hopes to hire contractor by mid-August to demolish Ann Arbor property
By Ryan J. Stanton
Washtenaw County officials are actively seeking a demolition company to tear down the long-vacant Georgetown Mall on Packard Street in Ann Arbor.
The county released a request for proposals for the demolition and hazardous soil remediation on Tuesday in hopes of moving forward with the work as quickly as possible.
Nathan Voght, an economic development specialist for the county, outlined the process in an email to city and county officials on Tuesday.
He said a mandatory site walk with bidders will take place either this Friday or early next week, and bids will be due by Aug. 17.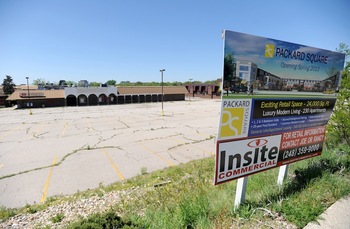 Angela J. Cesere | AnnArbor.com
"Contractor selection will take about a week, and then another couple weeks to sign a contract," Voght said. "Work would begin as quickly as possible after contract signing."
City Council Member Margie Teall, D-4th Ward, said that's good news since many of her neighbors are anxious to finally see the mall come down and are asking a lot of questions about it.
The Michigan Department of Environmental Quality in May announced a $1 million brownfield grant to help redevelop the 6.7-acre site on Packard Street. Vacant since 2009, it has three dilapidated buildings and has been a concern to neighbors due to vandalism and vagrants.
The state grant is being administered by the Washtenaw County Brownfield Redevelopment Authority. It will pay for removal of contaminated soils and demolition of the existing buildings.
Past development efforts have been hindered by contamination of soils under the building with perchlorethylene, a chemical used by a dry cleaning business that once operated in the mall.
The Ann Arbor City Council voted unanimously in May 2011 to approve a site plan for a project called Packard Square, a $48.2 million redevelopment of the blighted mall property.
Bloomfield Hills-based developer Craig Schubiner of Harbor Georgetown LLC plans to construct a four-story, mixed-use building containing 230 apartment units and 23,790 square feet of retail space.
It also is expected to include a 144-space parking garage underneath the apartment building, as well as 310 surface parking spaces.
Schubiner said last year he hoped to break ground on the project in August 2011 and have it completed by the end of 2012 or early 2013.
Bruce Measom of Harbor Property Management LLC provided an update on the Packard Square project in a July 17 email to city planning officials.
He said various representatives of the state, county and the development team met for a kickoff meeting June 14 to discuss logistics and the next steps for the grant administration.
An important step in that process was the preparation of a work plan by the project's environmental consultants, and that work plan must be approved by the state and county, Measom said.
Voght said on Tuesday he expected the work plan, which outlines the grant work to be done, to be submitted to the DEQ for approval sometime this week.
Measom said in his July 17 email the developer was working with DTE Energy to have some power poles and power lines relocated so they do not directly span the property, and instead more closely follow the perimeter of the back parking area.
Concerning proposed revisions to the site plan submitted on June 25, those incorporate necessary changes so the plans now comply with the new city ordinances regarding bioswales, Measom said.
"Those plans also included other minor adjustments to parking, unit mix and unit counts, and the facade along Packard was aligned with the stairwells," Measom wrote in his email.
"There were also some other minor architectural changes to remove some balconies, combine the two pool cabanas into one, and to change the location of the gym and exercise rooms within the building so they will be on the ground floor rather than upstairs," he said. "However, the general configuration of the building, drives, and parking remains the same."
In recent months, soil borings also were performed inside the former Kroger store in hopes of expediting the process and allowing the structural engineers to complete their structural building plans.
"We will be working with the utility companies to disconnect all utilities, in anticipation of the upcoming demolition," Measom said. "There are also a lot of other things happening simultaneously to move the project forward, but these are the most salient items for a community update."
The 80-page RFP posted on the county's website states there are three buildings and a maintenance shed that need to come down, in addition to removal of pavement and other items.
Following site and building demolition, about 3,380 tons of hazardous soil need to be removed. After that, the site will be backfilled and compacted to its existing grade.
According to the RFP, 2,500 tons of material will be excavated and managed through the DEQ grant and the remaining 880 tons will be managed by Harbor Georgetown LLC.
Though distinct excavation areas will be tracked separately, it's the intent of the county and the developer to retain a single contractor to manage all soil removal.
Ryan J. Stanton covers government and politics for AnnArbor.com. Reach him at ryanstanton@annarbor.com or 734-623-2529. You also can follow him on Twitter or subscribe to AnnArbor.com's email newsletters.