Posted on
Tue, May 3, 2011 : 5:59 a.m.
Ann Arbor City Council gives OK to $48.2 million redevelopment of blighted Georgetown Mall property
By Ryan J. Stanton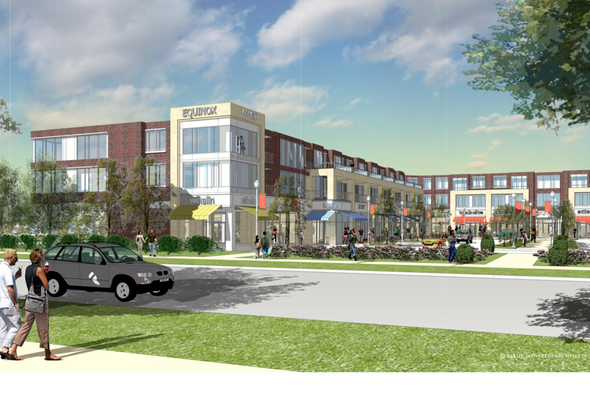 From The Harbor Companies LLC
The Ann Arbor City Council voted unanimously Monday night to approve a site plan for Packard Square, a $48.2 million redevelopment of the blighted Georgetown Mall property.
Bloomfield Hills-based developer Craig Schubiner of Harbor Georgetown LLC, who was in the audience but did not speak, plans to move forward with constructing a four-story, mixed-use building containing 230 apartment units and 23,790 square feet of retail space.
The project was approved with little discussion from council other than brief remarks by Margie Teall and Marcia Higgins, both 4th Ward Democrats, who said they're glad to see it going forward and happy that the developer listened to input from residents.
The project, located at 2502-2568 Packard Road, involves demolishing three existing buildings on site, as well as some environmental cleanup. It will include a 144-space parking garage underneath the apartment building, as well as 310 surface parking spaces.
Schubiner has said he hopes to break ground on the project in August and have it completed by the end of 2012 or early 2013.
The Georgetown Mall site has been vacant since Kroger closed its grocery store there in fall 2009, leaving neighbors and both city and county officials concerned about the condition of the property. Regular meetings have been held to discuss the site's future ever since.
During a public hearing on the project Monday night, only a few people spoke, including two residents who live near the project.
"Even though the impending Packard Square project may not be perfect, we all hope that it will be a beneficial one to our neighborhood and quality of life," said Mary Krasan, a Georgetown Neighborhood Association spokeswoman.
"To that end, we as a neighborhood and a community will remain watchful to ensure that the developers live up to their contractual agreements," she said.
Krasan said her neighborhood has been lucky that it is looking at a resolution to its blight issue when there are many others around town that remain with no certain end in sight.
"I hope these issues have made clear the fact that our residents and neighborhoods need stronger protections against the corrosive effects of blight, not only on housing value but more importantly on neighborhood morale," she said.
Under a separate resolution Monday night, council members approved a brownfield plan for the Packard Square project that includes tax-increment financing assistance for the developer.
A brownfield property is one in which site conditions present an obstacle to redevelopment. In Michigan, that can include properties that are environmentally contaminated, blighted or functionally obsolete, and the developer of Packard Square claims all three conditions exist.
About $5.8 million in taxes is expected to be captured over a 14-year period as part of the brownfield plan. Of the total eligible brownfield activities, $3.6 million would be directly reimbursable to the developer, plus another $717,236 in interest.
Through tax-increment financing, no existing taxes are abated. However, the incremental increases in tax revenues that result from improvements to a property are channeled back to the developer to help cover costs and provide an incentive for development.
Ryan J. Stanton covers government and politics for AnnArbor.com. Reach him at ryanstanton@annarbor.com or 734-623-2529. You also can follow him on Twitter or subscribe to AnnArbor.com's e-mail newsletters.