Posted on
Fri, Mar 22, 2013 : 5:59 a.m.
County to move adult mental health services to its Annex building in downtown Ann Arbor
By Amy Biolchini
Editor's note: This story was edited for clarification at 10 a.m.
To allow the majority of its growing patient population better access, Washtenaw County's Community Support and Treatment Services is planning to move its adult mental health services to the county's Annex building at 110 North Fourth Ave. in downtown Ann Arbor.
The move is a part of Washtenaw County's 2013 space plan, presented to the Board of Commissioners at its working session Thursday by Infrastructure Manager Greg Dill.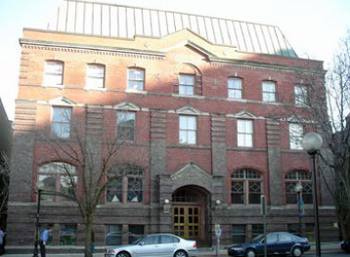 Courtesy of Washtenaw County
The Annex, built in 1904, is 32,852 square feet and houses the county's Public Defender Offices, Office of Infrastructure Management, Office of Community and Economic Development, Project Outreach (PORT) and the Washtenaw Housing Alliance.
The move of adult mental health services into the building would come after renovations to the facility, and the movement of all of its tenants out of the building to another county-owned property, with the exception of PORT.
PORT is a group of community outreach staff that work to engage homeless individuals resistant to mental health services.
Community Support and Treatment Services is housed at 2140 Ellsworth Road in Ann Arbor. It also has a location at 750 Towner St. in Ypsilanti that serves developmentally disabled individuals that will remain open.
The agency is serving 40 percent more people than it was five years ago, with a 25 percent jump in its patient population within the past two years alone, according to county staff.
In its adult mental health program, there is a team of psychiatrists, nurses, and case managers to help individuals diagnosed with severe and persistent mental illness.
The movement of the adult mental health program from the county's Ellsworth Road facility would allow the county's Youth and Family Services program to move in from its current location at 4125 Washtenaw Avenue.
The remainder of the county's 2013 space plan calls for renovations at its downtown Ann Arbor properties.
At its 200 North Main St. property, the county is planning to move the clerk's office services from the lower level and redevelop the space for other uses. The lower-level conference room in the building will be converted to office space.
At the administration building at 220 North Main St., the county is planning some renovations to the first floor, as well as adding conference rooms and storage space to the lower level.
A building study is under way to determine if 220 and 200 N. Main St. could be connected.
As for the county's Platt Road property in Ann Arbor that holds several vacant buildings, including the former juvenile detention center and the O'Brien Center, final plans have yet to be announced by the county. It is likely that the juvenile detention center will be demolished.
The county is pursuing a mixed use of the property, which could include affordable housing.
Amy Biolchini covers Washtenaw County, health and environmental issues for AnnArbor.com. Reach her at (734) 623-2552, amybiolchini@annarbor.com or on Twitter.