Posted on
Sat, May 28, 2011 : 5:54 a.m.
Ann Arbor resident fears for pets' safety as foxes take up residence in her front yard
By Tom Perkins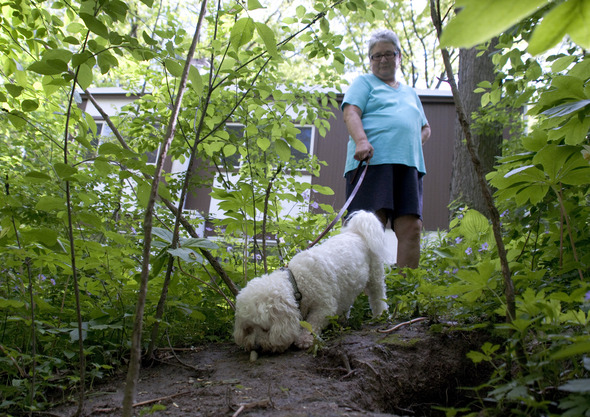 Tom Perkins | For AnnArbor.com
In early May, Ann Arbor resident Cathy Bolton noticed new neighbors moved in. Peeking out of what was once a groundhog hole in her front yard was a baby fox.
Bolton's human neighbors described the foxes choosing her yard as "spiritual," but like another Ann Arbor resident who recently spotted coyotes near her home, she says she can do without wild neighbors.
Bolton lives near Jackson Road and I-94 and now finds fox excrement all over her property. Worse, she suspects her young cat that has been missing for a week might have become "a tasty appetizer."
"They are cute, and I never, ever had seen one before around here, but it's not something that's special or spiritual. It's that intersection between humans and animals," she said.
But Pat DeLong, director of Ann Arbor's Friends of Wildlife and the group's fox expert, said foxes are mostly harmless and likely didn't dine on Bolton's cat. Foxes go for small rodents such as mice or moles, or even easier prey like beetles or fruits.
DeLong said if the cat was eaten, then the culprit was more likely a coyote or neighborhood dog.
"Foxes do not eat cats," she said. "A fox, even though he looks large, he looks large because of fluffy fur. Ten to 12 pounds is about max for them. They are very curious and they'll stop and watch a neighborhood cat or pet, but they won't interact."
DeLong said no numbers are available on how many foxes live in Ann Arbor or Washtenaw County because no studies or counts have been performed, but she said the animal is rare.
In recent years, there has been a slight uptick in the number of fox sightings, DeLong said, and she attributed that to two issues. First, more subdivisions are being built in once-rural areas. Second, the fox has a natural enemy in coyotes, who are known to feed on their young, called kits.
"Foxes are eaten by coyotes, and fox kits have no defense," DeLong said. "Coyotes hunt in a group; they're a pack animal, so they can take down a deer or larger animal."
Foxes are known to take over a groundhog or woodchuck's hole, as is the case on Bolton's property. DeLong said the foxes usually inhabit the hole while the female fox, called a vixen, gives birth.
Once the vixen gives birth, the foxes could stay for up to several months while their young are cared for and trained to hunt. Since kits can't control their body temperature as newborns, the mother stays with them while the father retrieves food and hunts for the family, DeLong said.
Bolton said her large tomcat has started coming in at night, and she always sticks by her 25-pound bichon while letting it out. Her daughter has put up posters for their missing cat around the neighborhood, but no one has reported seeing it.
"I'm torn," Bolton said. "I realize that this is their habitat and I like it that they kill rodents and we have skunks, but they're dangerous to the other animals."
Since foxes don't like loud noises, DeLong suggested vigorously shaking a large, plastic garbage bag when foxes are in sight.
"I just think an important thing for people to remember is that we have to share the world with animals — fox or rabbits or whatever — and there are many ways to detour them from property if you don't want them, and to do it gently," she said.