Posted on
Wed, Sep 12, 2012 : 5:58 a.m.
Crime rate at Riley Court apartments may lead to legal action against owner
By Tom Perkins
The 'wild west' days of an Ypsilanti Township apartment complex could soon be coming to a close.
Throughout stretches in the last five years, Ypsilanti Township's Riley Court has been a haven for criminal activity, and has demanded an especially high amount of police resources in 2012, authorities say.
Now, they are hopeful the combined efforts of the Washtenaw County Sheriff's Department and Ypsilanti Township's Office of Community Standards will permanently clean up the East Michigan Avenue apartment complex.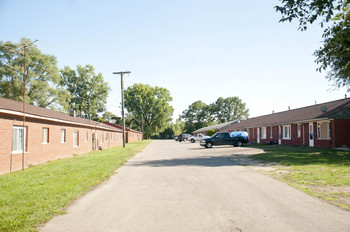 Tom Perkins | For AnnArbor.com
Through the end of August, the Sheriff's Department had responded to 96 calls at Riley Court, which Sheriff's Department Lt. Jim Anuszkiewicz says is especially high given the complex's small size. It only has 30 units, and police have responded to calls at 24 of those.
"We don't have any complexes as small as this with as high of a volume of calls," he said.
Included in Riley Court's rap sheet is arson, sexual assault, felony warrant arrests, armed assault, animal complaints, disorderly persons, prostitution, narcotics possession, narcotics distribution, shots fired complaints and noise complaints. The Sheriff's Department also has recovered stolen cars from other jurisdictions and accompanied the township officials to enforce ordinance violations.
Ypsilanti Township Attorney Doug Winters said the situation is beginning to resemble Liberty Square.
"It's quite a telling summary with the amount resources expended at Riley Court in 2012 alone," Winters said. "Keep in mind there are 30 units — that's not many units to have that many calls."
Most recently, the Sheriff's Department conducted an operation targeting a heroin dealer operating part-time out of the complex, but was unable to nab him.
Officials said the complex's owner, Stewart Beal, is not addressing issues there and seems to be neglecting the property.
Beal did not respond to requests for an interview from AnnArbor.com.
Anuszkiewicz said the disrepair helps attract crime. The conditions are serious enough that the Ypsilanti Township Board of Trustees approved township staff taking legal action against Beal.
"There is a lot of information that comes out of Riley Court as it relates to criminal activity," Anuszkiewicz said. "It doesn't appear that the ownership cares about how the complex looks or has undertaken any effort to improve the quality of life there.
"There are a number of different factors contributing to the problem, but the condition of the complex, the lack of the ownership taking care of it — in my opinion, that ultimately attracts the criminal element."
The location and layout of the complex also plays a role in the issues, Anuszkiewicz said. Riley Court is isolated behind several businesses off East Michigan Avenue. The businesses also are upset about the issues.
There is only one entrance and exit and it abuts an abandoned trailer park that is in the process of being cleaned.
"Location has been a big factor," Anuszkiewicz said. He said the department has been dealing with crime problems at Riley Court for years and the complex briefly was cleaned up after Beal and the township were in court for similar issues in 2008, but it has again fallen to disrepair.
"We've gone full circle and continue to see the problems," he said.