Posted on
Sat, Aug 31, 2013 : 9:15 p.m.
1 arrested, 9 hospitalized, 14 ejected from Michigan Stadium during U-M's victory over CMU
By Kyle Feldscher
Of the more than 112,000 people who showed up at Michigan Stadium Saturday, to see the Wolverines take on Central Michigan in the University of Michigan football home opener, only one was arrested, U-M police said.
Police ejected 14 people from the stadium. Paramedics treated 114 people for medical issues, and nine people required hospitalization.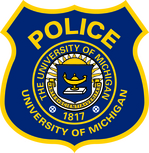 In a summary sent Saturday evening, police officials reported one person in the crowd was arrested for being a minor in possession of alcohol, and three people received citations —two for having alcohol in the stadium and one for possession of fake identification. Eleven other people were removed from Michigan Stadium.
Four of those ejections were for alcohol in the stadium, three were for minors in possession of alcohol, three were for disorderly conduct and one was for possession of a false identification, officials said.
Police officials said 112,618 were in attendance at The Big House Saturday afternoon as the Wolverines soundly defeated the Chippewas from Central Michigan University, 59-9.
Medical personnel treated 114 people and nine of those treated were taken to the hospital by ambulance.
During the home opener against Air Force in 2012, U-M police arrested two people, ejected 15 people, and medical personnel treated 66 people, nine of whom needed transport to the hospital.
Kyle Feldscher covers cops and courts for AnnArbor.com. He can be reached at kylefeldscher@annarbor.com or you can follow him on Twitter.