Posted on
Sat, Aug 31, 2013 : 5:59 a.m.
Your mega guide to No. 17 Michigan vs. Central Michigan
By Pete Cunningham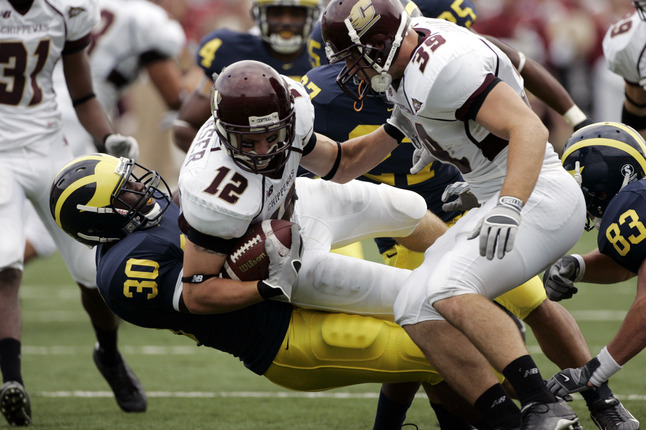 Ann Arbor News file photo
GAME STORY: Devin Gardner racks up 3 touchdowns, Michigan defense dominant in 59-9 win over Central Michigan
PHOTO GALLERY: Images from the Michigan football team's dominating 59-9 win over Central Michigan
LIVE BLOG: Michigan hosts Central Michigan, kicks off Brady Hoke's third season in Ann Arbor
WHO: No. 17 Michigan vs. Central Michigan.
WHERE: Ann Arbor.
WHEN: 3:30 p.m.
ODDS: MIchigan is favored by 31.5 points according to SportsBook.com.
SERIES RECORD: Michigan (3-0).
LAST MEETING: September 9, 2006, Michigan beat Central 41-17 .
WEATHER: 78 degrees, partly cloudy, 10 percent chance of rain with the wind blowing north around 7 miles per hour. Or...
BROADCAST INFORMATION: TV: Big Ten Network; Radio: Michigan Sports Network (local affiliates).
CENTRAL MICHIGAN: Roster | Schedule
Coverage: Most people don't know much about the current Central Michigan football team, except that the Chippewas had the No. 1 pick in the NFL Draft in 2013, offensive lineman Eric Fisher. Many have wondered if Fisher would have been No. 1 if Michigan left tackle Taylor Lewan had turned pro. It won't matter on Saturday as Fisher's money is in the bank and Lewan is on the field as the Wolverines are set to square off with the Chippewas. Here's everything you need to know about the matchup: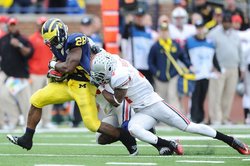 5 Michigan keys: Devin Gardner and the downhill running game, how will it look? (with predictions)
Michigan was able to catch a glimpse into its future last season when Denard Robinson was unable to throw a pass at Minnesota. The Wolverines turned to Devin Gardner in Minneapolis last November, and they really never looked back. How will the season go for Gardner, the Wolverines, Fitz Toussaint, the "Js" at wide receiver Jehu Chesson, Jeremy Jackson and Joe Reynolds.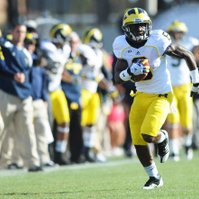 Matchups: Michigan has more talent than Central Michigan, but the Chips aren't punchless
Michigan enters Saturday's season-opener against Central Michigan as a mighty 32-point favorite. Not a surprise. But will the Wolverines re-live the sins of former Michigan teams by overlooking the Chippewas on Saturday with Notre Dame staring them in the eye on Sept. 7?
With Amara Darboh out, Michigan's focus on three J's: Jehu Chesson, Joe Reynolds, Jeremy Jackson
Michigan will be without its perceived No. 1 deep threat this season in Amara Darboh. The 6-foot-2 sophomore, who suffered a season-ending foot injury in fall camp, hasn't made a college catch -- but, according to coaches, had all the physical tools the Wolverines were looking for on the outside. So who will step up in his absence?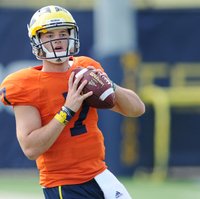 Michigan ready to play Shane Morris if opportunity arises Saturday; not hiding anything vs. CMU
Shane Morris won Michigan's backup quarterback battle this month fair and square. So, if the situation presents itself at any point this season, the true freshman signal caller will be put into the game for work. And that includes Saturday vs. Central Michigan according to coaches.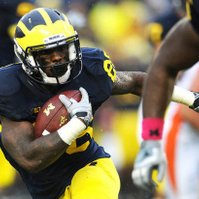 Analysis: As Michigan coaches rave about Fitz Toussaint, Wolverines need 2011 version back
Fitz Toussaint is back. Literally, the statement is true. But when Brady Hoke and his coaching staff continually speak of seeing the "old Fitz," it's impossible to know, for now, whether it's just nostalgia for the sophomore back they first encountered in 2011. Who will we see on Saturday?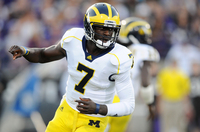 Nick Baumgardner answers questions on Michigan's most important position, Jabrill Peppers, Drake Johnson and more
What position is most important for Michigan this year? Is Drake Johnson being designated the No. 2 actually mean he's the No. 2? What about freshman Derrick Green and the other vetran running backs? Nick Baumgardner answers all these questions and more.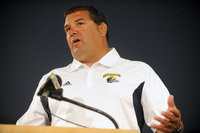 Michigan's Brady Hoke expects Jarrod Wilson to start at free safety Saturday vs. Central Michigan
Brady Hoke said Wednesday that sophomore Jarrod Wilson will "probably" be in the starting lineup Saturday while senior Courtney Avery rehabs from a knee injury. What probably means to most isn't always what it means to others. Like the time Denard Robinson's staph infection was "probably" a boo-boo.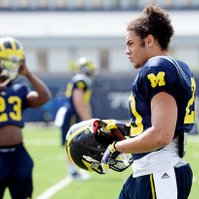 Drake Johnson listed as Michigan's No. 2 RB, but Al Borges not promising snaps for young guys
The Wolverines allowed six running backs to fight for the No. 1 job this fall, and listed all six on their depth chart Monday. Fitz Toussaint is No. 1, redshirt freshman Drake Johnson is listed as the team's No. 2 runner, followed by Justice Hayes and Thomas Rawls. Freshmen Derrick Green and De'Veon Smith appear to be tied for the No. 5 spot on the depth chart.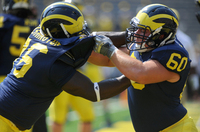 Michigan's Jack Miller wins center battle, Graham Glasgow to start at left guard and more notes
Michigan's center battle has been settled. And, as of now, both candidates will be in the starting lineup Saturday when the Wolverines' open the season against Central Michigan Sophomore Jack Miller (6-foot-4, 290 pounds) will be the team's starting center to open the season, and sophomore Graham Glasgow (6-foot-6, 305) will play alongside him at left guard.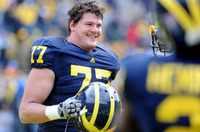 Taylor Lewan expects Michigan's new offensive line to be 'punishing' and consistent
In Taylor Lewan's eyes, there are two types of offensive linemen in college football. There are those who earn starting jobs, and those who play well. And, as the unquestioned leader of Michigan's offensive line this season, the Wolverines' All-American left tackle isn't accepting anything but the latter.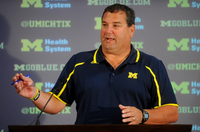 Brady Hoke: Michigan 'in pretty good shape' health-wise on eve of season opener
Michigan opens its 2013 season Saturday against Central Michigan. And, it'll be healthy -- for the most part. "We're good," Hoke said Friday evening during an interview on MGoBlue.com after the team's final walk through.
This and that:
Associated Press preview capsule
WHAT'S AT STAKE
Michigan has a chance to make a good first impression with its return to a traditional offense after running a spread-heavy scheme that took advantage of Denard Robinson's ability to run in Brady Hoke's first two years after the three-season Rich Rodriguez era.
KEY MATCHUP
The Wolverines will lean on their running backs, starting with Fitzgerald Toussaint, who is coming off a season-ending leg injury, to establish a ground game behind an offensive line with new starters at both guards and center. Central Michigan's best chance to stay competitive might a good rush up the middle on QB Devin Gardner against inexperienced linemen.
PLAYERS TO WATCH
Michigan: Toussaint. The last time the senior was on the field in a game, he was sent to a hospital for surgery soon after breaking his left leg — between the ankle and knee — in a gruesome injury on Nov. 17, 2012, against Iowa. He finished last season with less than half of his total from 2011, when he ran for 1,041 yards.
Central Michigan: RB Zurlon Tipton. The senior ran for 1,492 and scored 20 touchdowns. He had at least 100 yards rushing in his last seven games and earned second-team All-MAC honors.
FACTS & FIGURES
Michigan is 31-1 against Mid-American Conference teams and the lone loss was under Rodriguez against Toledo in in 2008 in what stands as its last loss at home against a nonconference team. ... Michigan hasn't lost at home in Hoke's two seasons in charge of college football's winningest team, making him the school's first coach to win every game in Ann Arbor in his first two seasons since Fielding Yost in 1901 and 1902. ... Central Michigan coach Dan Enos, a former Michigan State quarterback, won his first three season openers easily by beating Hampton, South Carolina State and Southeast Missouri State.
Pete Cunningham covers sports for AnnArbor.com. He can be reached at petercunningham@annarbor.com. Follow him on Twitter @petcunningham.