Posted on
Fri, Dec 16, 2011 : 5:56 a.m.
Ann Arbor man admits to groping woman in September
By Kyle Feldscher
An Ann Arbor man accused of grabbing a woman's buttocks while walking in the city's Old West Side in September pleaded guilty to one count of fourth-degree criminal sexual conduct Thursday.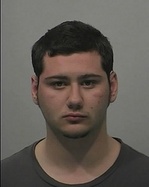 Jeremy Bolen, who was 18 when he was arrested, faces up to two years in prison and a $500 fine for the conviction. In court Thursday, Bolen admitted to following a woman on Sept. 26 as she walked near the intersection of Third and West Jefferson streets.
"I followed a young lady and I grabbed her butt," he told Washtenaw County Trial Court Judge David Swartz. When Swartz asked him why he did that, Bolen responded, "I guess sexual urges."
Bolen was arrested on the same day as the incident. The victim flagged down a passerby and used their cellphone to call police, according to investigators.
Swartz will sentence him at 1:30 p.m. Jan. 26. There was no sentencing agreement in place between Bolen and prosecutors or Swartz when he changed his plea Thursday.
It's Bolen's second conviction related to a sexual crime.
Police said he attacked a 23-year-old jogger at about 8:40 p.m. on Aug. 20, 2009, near West Washington Street behind Slauson Middle School. Investigators said a boy attempted to take off the woman's jogging pants but she bit one of his finders and yelled at him, scaring him away.
Bolen was convicted of assault with intent to commit sexual penetration, according to court records.
His attorney, Washtenaw County Assistant Public Defender Christopher Renna, asked Swartz to recommend Bolen undergo an evaluation for sex offender treatment prior to sentencing, as well as the usual pre-sentence report done by probation department officials.
Bolen is currently free after posting a 10 percent of $10,000 bond.
Kyle Feldscher covers cops and courts for AnnArbor.com. He can be reached at kylefeldscher@annarbor.com or you can follow him on Twitter.