Posted on
Sat, Dec 3, 2011 : 10:18 a.m.
Ann Arbor man charged with groping woman in September back in court next week
By Kyle Feldscher
The Ann Arbor man accused of grabbing a woman's buttocks while in the city's Old West Side neighborhood in September will return to court next week.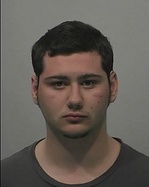 Jeremy Bolen, who was 18 when he was arrested, has been charged with fourth-degree criminal sexual conduct for allegedly grabbing the buttocks of a 29-year-old woman at about 5:36 p.m. on Sept. 26 near the intersection of Third and West Jefferson streets, according to police.
Bolen was arrested at his home after the victim flagged someone down and borrowed a cellphone to call police, according to investigators.
Bolen will be back in front of Washtenaw County Trial Court Judge David Swartz at 1:30 p.m. Thursday.
Bolen has a previous conviction of assault with intent to commit sexual penetration on his record, according to court documents.
According to police, he attacked a 23-year-old jogger at about 8:40 p.m. on Aug. 20, 2009 near West Washington Street behind Slauson Middle School. Police said a boy attempted to take off the woman's jogging pants but she bit one of his fingers and yelled at him, scaring him away.
Bolen is currently free on a 10 percent of $10,000 bond.
Kyle Feldscher covers cops and courts for AnnArbor.com. He can be reached at kylefeldscher@annarbor.com or you can follow him on Twitter.