Posted on
Tue, May 29, 2012 : 2:55 p.m.
Ann Arbor police arrest man suspected of robbing Broadway Party Store
By Kyle Feldscher
Ann Arbor police arrested an Ann Arbor man suspected of being part of the duo that pulled off a brazen robbery at the Broadway Party Store in April.
Joseph Bailey, 20, was arrested Friday following a long foot chase near Ann Arbor-Saline Road and Interstate 94, according to Ann Arbor police Lt. Renee Bush.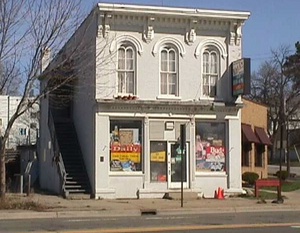 City of Ann Arbor
He faces felony charges of armed robbery, possession of a shotgun and assaulting, resisting and obstructing a police officer, Bush said.
He's being held on a $250,000 cash bond in the Washtenaw County Jail, Bush said.
Detectives William Stanford and Chris Fitzpatrick arrested Bailey after executing a search warrant at his home that turned up evidence from the crime, Bush said.
"Several leads were provided by the public regarding this incident," Bush said. "AAPD Detectives followed up on each one of these tips."
The arrest came just days after Esther Choi, whose family owns the store at 1027 Broadway St., told the Ann Arbor City Council her family needed more protection. Choi was frustrated by the lack of progress in the cases, but spoke with interim police Chief John Seto not long after her remarks.
The robbery took place at 10 p.m. April 9 when two men, one suspected to be Bailey, walked up to the clerk working at the store. Security camera footage released by police shows one masked man pointing a shotgun directly at the clerk while the other man rifles through the cash register, stealing cash and taking liquor from a nearby shelf.
If convicted, Bailey faces a maximum punishment of life in prison on the armed robbery charge.
Police are still searching for the second man in the robbery. Anyone with information related to that suspect is encouraged to call Fitzpatrick at 734-794-6930 ext. 49324 or the Ann Arbor police anonymous tip line at 734-794-6939.
Kyle Feldscher covers cops and courts for AnnArbor.com. He can be reached at kylefeldscher@annarbor.com or you can follow him on Twitter.