Posted on
Tue, Feb 12, 2013 : 5:59 a.m.
Police video shows men stealing maintenance truck in Ann Arbor
By Kyle Feldscher
Ann Arbor police have released a video of two men stealing a maintenance truck from Arrowwood Hills Cooperative Housing last month as they continue to search for the suspects.
Detective Chris Fitzpatrick, the lead investigator on the case, released the video to AnnArbor.com. The video shows two men pulling into the complex early on Jan. 8 in a black pickup truck. After sitting in the truck for about two minutes, the two men move to the back of the building to a parking lot where three trucks are sitting.
A man in a white jacket works to hot-wire the maintenance truck, while a man in a black jacket scrapes frost off the windshield, allowing for a quick escape. After a few minutes, the truck is started, and the man in the black jacket hops in and drives off.
The man in the white jacket sprints back to the black pickup and both trucks pull out of the complex.
The theft took place after 3 a.m. Jan. 8 in the 2500 block of Arrowwood Trail. It wasn't until workers returned to the business later that morning that the truck was reported stolen.
That same night, a similar truck was stolen from the Willowtree Apartments. The theft occurred between 5 p.m. Jan. 7 and 8 am. Jan. 8. It's unknown if the two incidents were related.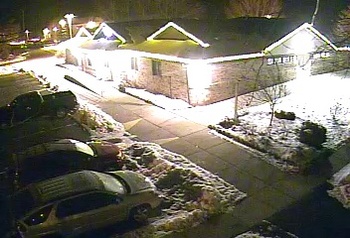 Courtesy of Ann Arbor police
The truck belonging to Arrowwood Hills in a red 2005 Ford Super Duty. There's silver tape on part of the tailgate, one of the taillights is cracked and covered with tape and there is damage to the rear driver's side. The snowplow on the front of the truck and the tires were both new.
The resident manager told AnnArbor.com the loss of the truck was a major inconvenience for the cooperative.
The video does not provide a clear view of the men's faces. They appear to both be white men, of average height and build. One is wearing a black jacket with a black hat, while the other is wearing a white jacket with the hood up.
The Washtenaw Area Auto Theft team (WAAT) is assisting the Ann Arbor police with the investigation, Fitzpatrick said.
Anyone with information on the theft is encouraged to call Fitzpatrick at 734-794-6930 ext. 49324, WAAT at 734-994-8881 or Crime Stoppers at 1-800-SPEAK UP (773-2587).

View 2500 Arrowwood Trail in a larger map
Kyle Feldscher covers cops and courts for AnnArbor.com. He can be reached at kylefeldscher@annarbor.com or you can follow him on Twitter.