Ann Arbor sees spike in robberies, but police say it's no cause for alarm
Posted on Fri, Apr 20, 2012 : 2:59 p.m.
The numbers might lead one to think a recent spate of robberies in Ann Arbor, both armed and unarmed, is cause for alarm. However, police say the recent incidents don't indicate a trend.
In the city of Ann Arbor and on the campus of the University of Michigan, just five armed robberies were reported from Jan. 1 to March 19, according to CrimeMapping.com. However, since March 19, Ann Arbor police and university police have responded to 11 robbery reports, including six armed robberies, according to the website.
But officials from both the Ann Arbor Police Department and the University of Michigan Department of Public Safety were loathe to say that the increase during the past month was unusual.
Ann Arbor police Detective Lt. Robert Pfannes said the crimes committed during the last month fall into two distinct camps: dangerous robberies involving weapons and crimes of opportunity such as unarmed robberies of cell phones. The robberies of a pizza delivery driver, the Broadway Party Store and a Subway most concern police because of the potential for violence that comes in those kinds of crimes.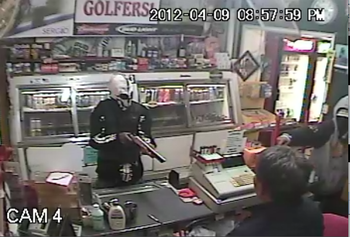 However, crimes such as thefts of cell phones recently at the University of Michigan are less likely to result in violence. They happen when a person with the intent to commit a crime finds an opportunity in the form of an unsuspecting victim, police said.
"Those are crimes when intent meets opportunity," Pfannes said. "Armed robbery generally involves some amount of premeditation."
Police continue to investigate each of the unsolved robberies that have occurred since March 19. The incidents involving guns were the April 3 robbery of a Subway on Eisenhower Parkway, the April 9 robbery of the Broadway Party Store and the April 12 robbery of a Bell's Pizza deliveryman on Bluestem Lane.
The other Ann Arbor armed robbery was reported on April 11 after a Flint man was hit with a rock and robbed of liquor and cash.
An arrest was made Friday in the robberies of an Ann Arbor Denny's and a Circle K location on Saturday. The man was scheduled to be arraigned Friday afternoon, police said.
Pfannes said there's no evidence at this point that the armed robberies are related, as evidenced by the varied suspect descriptions police have released following each of the crimes.
The robberies come as the number of home invasions reported in the city has decreased after the year started with a spate of incidents. According to CrimeMapping.com, there were 45 home invasions reported in January and 43 reported in February, but just 26 reported in March and 21 reported through Thursday.
However, the decrease in the number of home invasions and uptick in robberies is coincidental, Pfannes said.
"The suspect is different in robberies (than in home invasions) because they aren't afraid of one-on-one confrontation," he said. "Robberies are more dangerous because of the potential for violence. Someone breaking into a house is looking to avoid contact with anyone else."
Most of the cell phone robberies have occurred on the University of Michigan campus, where three men have been arrested and charged for the crimes.
A Saginaw man was arrested for the March 19 robbery of a U-M student in the Nichols Arboretum. The man punched the woman in the face and then took her cell phone and cash before fleeing the area, police said. He was arrested in Saginaw after he was identified by security camera footage and the woman's cell phone location was tracked to his Saginaw home, police said.
Mark Jones and Billy Venson were arrested on April 4 after one of them robbed a student of his cell phone near the Northwood Apartments and then fled in a Dodge Charger. Police stopped the men a short time after the robbery and arrested them for possession of drugs with intent to deliver. They were later charged with unarmed robbery for the incident. Both men are currently lodged at the Washtenaw County Jail.
U-M Department of Public Safety spokeswoman Diane Brown said cell phones are becoming an in-demand item. She said phones are often stolen and then resold in exchange for drugs, with iPhones commanding about $100 a piece on the black market. Other smart phones usually bring about $50 when resold, usually to drug dealers, Brown said.
"That's consistent with what we've heard," she said.
Brown said it's difficult to balance warning citizens to protect themselves without blaming the victims for the crimes. She said everyone should be able to come and go as they please, but feeling too safe can sometimes lead to a person turning into easy prey for a potential criminal.
Despite the recent incidents, Washtenaw County Sheriff's Office spokesman Derrick Jackson said the market for cell phones in area pawn shops isn't exactly booming right now. Only one cell phone that is currently in a pawn shop has come from Washtenaw County and a shared inventory database means police are alerted when a stolen cell phone comes in to a store, he said.
Jackson said the sheriff's office jurisdiction usually sees a corresponding uptick when certain types of crimes go up in Ann Arbor and other parts of the county and, so far, that hasn't happened with respect to robberies.
"We've had armed robberies, that's for sure, but it doesn't seem like there's a real increase," he said.