Posted on
Wed, Jun 5, 2013 : 11:40 a.m.
Ann Arbor SAES graffiti suspect released from youth home, faces 4 new charges
By John Counts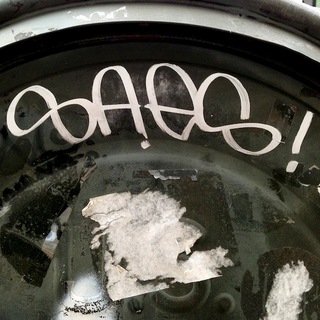 Melanie Maxwell | AnnArbor.com
The 15-year-old Ann Arbor boy already charged with 16 counts of property destruction for allegedly spray painting his moniker SAES throughout the city is facing new charges, court records indicate.
Four new complaints -- three in Ann Arbor and one on the University of Michigan campus -- were submitted to the prosecutor's office as of May 28 when the boy appeared in juvenile court, records indicate.
At that hearing, the boy also was released from the Washtenaw County Youth Home and a pretrial hearing, originally set for Wednesday, was rescheduled for June 12, according to records.
In juvenile court, a petition listing the counts is filed once it is authorized by the prosecutor's office. As of Wednesday, the petition detailing the charges was not yet part of the boy's court record.
Ann Arbor police detectives could not immediately be reached for comment about the new charges.
The boy's court record also shows he was released last week into the custody of his grandmother, per a few conditions. The former Community High School student had to enroll and participate in W-A-Y Washtneaw, an online, alternative school. He also is under house arrest and on night surveillance.
The juvenile court referee Julia Owdziej signed the boy's release.
The new charges likely will be similar in nature to the 16 destruction of property counts the boy already faces.
Nine of those current counts are felonies punishable by five years of imprisonment, and/or $10,000 or three times the amount of destruction or injury, whichever is greater. The remaining counts are misdemeanors, four punishable by one year in jail and/or $2,000 or three times the amount of damage and three punishable by 93 days in jail and/or $500 or three times the amount of damage, whichever is greater.
The boy was taken into custody three days after breaking a court ordered tether ruling in April.
A 16-year-old Ann Arbor Pioneer High School student who pleaded guilty in 11 counts of property destruction for spray painting "Mole" tags throughout the city is still scheduled for a disposition hearing -- the equivalent of a sentencing -- on June 18, when just how much restitution the boys will have to pay together should be determined
Police say the two boys were friends and are responsible for numerous graffiti on dozens of buildings, overpasses, light poles and other locations around Ann Arbor.
John Counts covers cops and courts for AnnArbor.com. He can be reached at johncounts@annarbor.com or you can follow him on Twitter.