Posted on
Wed, Nov 7, 2012 : 5:50 p.m.
Ann Arbor teenager to serve 1 year in jail in sexual assault of 14-year-old boy
By Kyle Feldscher
The 18-year-old Ann Arbor woman who pleaded no contest to sexually assaulting a 14-year-old boy will serve a year in jail as a part of her five-year probation sentence.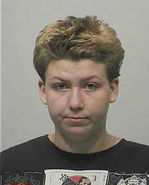 Courtesy of the WCSO
Ashley Poe pleaded no contest to two charges of second-degree criminal sexual conduct in September and was sentenced by Washtenaw County Trial Court Judge Archie Brown on Wednesday. Brown sentenced her along the lines of the sentencing agreement reached with Washtenaw County prosecutors.
Poe will be put on probation for five years. One of the conditions of her probation is spending a year in the Washtenaw County Jail, with credit for 57 days already served.
Poe declined the opportunity to speak in court Wednesday.
According to police, Poe sexually assaulted a 14-year-old boy and a 12-year-old girl who were said to be "at risk." In court on Wednesday, attorneys agreed the criminal charges Poe pleaded no contest to would only refer to the boy.
In exchange for the no-contest pleas, charges of third-degree sexual conduct on a person between 13 and 15 years old, second-degree criminal sexual conduct and accosting children for an immoral purpose were dropped.
As a part of her probation, Poe will be treated for marijuana and alcohol usage during the daytime hours of her days in jail, Brown ruled. She also must pay nearly $5,000 in fines and costs.
Details remain scarce in the case. Ann Arbor police have indicated AnnArbor.com's Freedom of Information Act request for the police report would be denied because the case is still under investigation.
Court records indicate the offense date in the case was July 14 and Poe was reportedly arrested on Sept. 11.
Poe is scheduled to be in court at 8:30 a.m. Thursday for a preliminary exam. She is facing a charge of possession of a controlled substance and third-degree retail fraud in that case, according to court records.
Kyle Feldscher covers cops and courts for AnnArbor.com. He can be reached at kylefeldscher@annarbor.com or you can follow him on Twitter.