Ann Arbor woman irate after vandals deface home with racist term and 'YOLO'
Posted on Fri, Jun 29, 2012 : 2:58 p.m.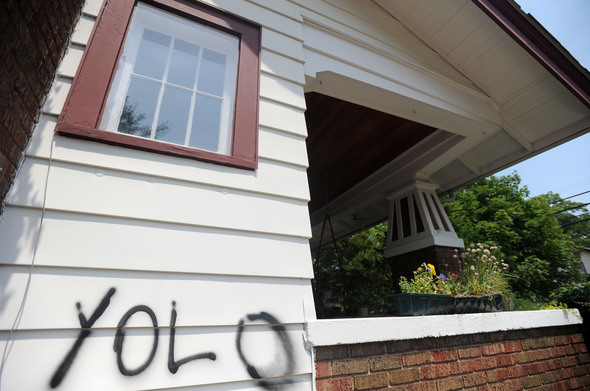 Angela Cesere | AnnArbor.com
Editor's note: AnnArbor.com is not using the word with racial connotations mentioned in this article because of its offensive nature.
An Ann Arbor resident is outraged after vandals spray-painted the siding and chimney on her home sometime before Thursday evening, including a racially charged word.
Patty Gardner lives in the area of Seventh Street and Jefferson Court and is one of the rare private homeowners in the area to report her house vandalized by graffiti during the city's recent struggle with the issue. Gardner said she reported the vandalism to Ann Arbor police at 9:23 p.m. Thursday and police are investigating the incident.
Gardner first noticed the vandals had sullied the sidewalk and AT&T box near her home. A short time later, she saw the phrase "YOLO" — short for You Only Live Once — and another word with racial connotations on the home. She was none too keen on the discovery.
"I was very angry. I was angry at the violation of our property and the fact that it struck me as a racist thing," said Gardner, who is white. "There's sexual references on the other side of the street. I assume it's kids, but I also find that accepting a racial thing as 'just kids' is not OK."
Ann Arbor has had its struggles with graffiti during 2012 and police have been working to crack down on the blight. Two teenagers suspected of being responsible for graffiti have already been arrested and charged with felonies, with one of them accepting a guilty plea to a misdemeanor charge in exchange for the felony vandalism charge being dropped.
Graffiti crimes are especially difficult for police officers to investigate. Culprits often have to be caught in the act for a strong case to be made, police say. Targets for graffiti have included street signs, the sides of businesses and play structures in public parks. The report of a private home being tagged with graffiti in a seemingly random act is rare.
Gardner said it was unfortunate that she wasn't able to provide the responding officer with many details on the incident. She never saw anyone spray-painting in the area or tagging her house, but she wanted to notify police of the incident anyway.
No other houses in the area were vandalized, Gardner said.
"As far as I know, it was confined to the length of our house area along the street," she said.
Now, all that's left for Gardner and her family to do is paint over the vandalized area.
She said the house was painted a few years ago and she still has some leftover paint that she can use to cover the graffiti. Gardner said she'd consult a local hardware store to see if there's anything else her family should do.