Posted on
Tue, May 14, 2013 : 5:55 p.m.
Woman pleads guilty but mentally ill in fatal stabbing of father
By Kyle Feldscher
Susan Wade will serve at least 20 years in prison after pleading guilty but mentally ill to second-degree murder for killing her father last June.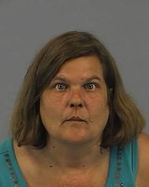 Courtesy of the Washtenaw County Sheriff's Office
Wade, 49, admitted in court Tuesday to stabbing Ronald Mason, 86, multiple times. Washtenaw County Trial Court Judge Donald Shelton accepted the plea agreement, which will see a count of open murder dismissed at sentencing.
According to portions of reports read aloud by Shelton in court Tuesday, Wade suffers from paranoid schizophrenia and was having auditory hallucinations at the time she killed Mason. In a report from Dr. Phillip Margolis, professor emeritus of psychiatry at the University of Michigan, the auditory hallucinations were cited as one reason for the murder.
"She could not control her behavior, goaded by the voices, referring to auditory hallucinations … Mrs. Wade killed her father," Shelton said, reading from the Margolis report.
Wade stabbed Mason between 20 and 30 times on June 9, 2012 at his home in the 1700 block of Covington Drive in Ann Arbor. Police said Wade stabbed Mason while he slept and then returned later on when she thought she saw him moving.
In court Tuesday, Wade said she only was visiting her father for a week at his home but had not been taking her medication. She was on weekly injections and taking pills daily to combat her mental illness, according to a report done by the Forensic Center.
When asked if she was trying to kill her father, Wade became choked up.
"No, I wasn't your honor, but I was not taking my medication," she said, pausing for breath. "I'm very sorry for what I did."
Wade said in court she is a widow and her mother, Mason's wife, also had passed away. She repeatedly attributed the incident to not taking her medication.
"I didn't take my medication, so I don't know what I was thinking about," she said.
Wade's attorneys, Washtenaw County Assistant Public Defenders Gina Noveskey and Chris Renna, intended to argue at trial Wade was not guilty by reason of insanity. The Margolis report would have indicated she was not criminally responsible for her actions at the time of Mason's death.
However, Noveskey said Wade decided to waive her right to a trial and accept the plea deal instead.
Washtenaw County Assistant Prosecutor Blaine Longsworth provided the Margolis report, the Forensic Center report and the preliminary exam transcript as proof of Wade's mental illness.
"The defendant was mentally ill at the time she killed her father," Longsworth told Shelton.
Under a plea of guilty but mentally ill, Wade will be subject to the same criminal sentence she would be under a normal guilty plea. However, with the plea, she will be given psychiatric care for her mental illness. The Michigan Department of Corrections or the Michigan Department of Community Health may provide the treatment, according to state law.
Shelton will set the maximum sentence at sentencing, which is scheduled for 1:30 p.m. June 11. She remains lodged at the Washtenaw County Jail without bond.
Kyle Feldscher covers cops and courts for AnnArbor.com. He can be reached at kylefeldscher@annarbor.com or you can follow him on Twitter.