Posted on
Mon, Jun 11, 2012 : 3:05 p.m.
Susan Wade held without bond after being charged with stabbing death of elderly father
By Kyle Feldscher
Susan Wade referred to Ronald Mason as "Daddy" several times during her arraignment Monday afternoon.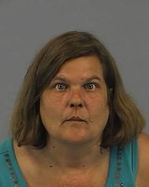 Courtesy of the Washtenaw County Sheriff's Office
She told court officials her adoptive father was in charge of paying her rent, keeping track of her savings account and keeping tabs on the amount of money she received as social assistance from the government.
Wade - described by family as severely mentally ill - is accused of stabbing that same man between 25 and 30 times while he slept early Saturday morning in his Ann Arbor home.
Wade was officially charged with one count of open murder Monday afternoon during an arraignment at the Washtenaw County Jail.
Washtenaw County Assistant Prosecutor Dianna Collins told Magistrate Thomas Truesdell that Wade waited until Mason was asleep in his bed and then stabbed the 86-year-old Ann Arbor man repeatedly, leaving him to bleed to death.
"She turned the fan on, found the longest kitchen knife she could find, entered after midnight and stabbed him 25 to 30 times," Collins said.
Collins said Wade returned to the bedroom later on that morning and thought she saw Mason moving. That prompted her to resume the attack, Collins said.
Given the information from Collins, Truesdell ruled Wade, 48, would be held without bond in the Washtenaw County Jail while her case progresses.
Kristine Crossman, Wade's daughter, told AnnArbor.com on Sunday that Wade is schizophrenic and has a history of drug abuse. Crossman said Wade had been staying with Mason for a few days before the alleged murder.
Crossman visited the home on Saturday, and learned that her grandfather - who had raised her - was dead inside. Crossman also said Wade was in the home when she arrived, and that Wade had barricaded all the doors and windows to the home in the 1700 block of Covington Drive before she allowed Crossman inside and led her to Mason.
It's the first reported homicide in the city of Ann Arbor since Kwame Burrell strangled his girlfriend to death in January 2009. Burrell was sentenced to 26 to 50 years in prison in that case.
Truesdell appointed the Washtenaw County Public Defender's Office to represent Wade. She's scheduled to be back in court at 8:30 a.m. June 21 for a preliminary exam.
Kyle Feldscher covers cops and courts for AnnArbor.com. He can be reached at kylefeldscher@annarbor.com or you can follow him on Twitter.