Posted on
Tue, Apr 30, 2013 : 11:40 a.m.
Attorney: Family likely to appeal court's 6-month probation sentence for teen charged in brawl
By John Counts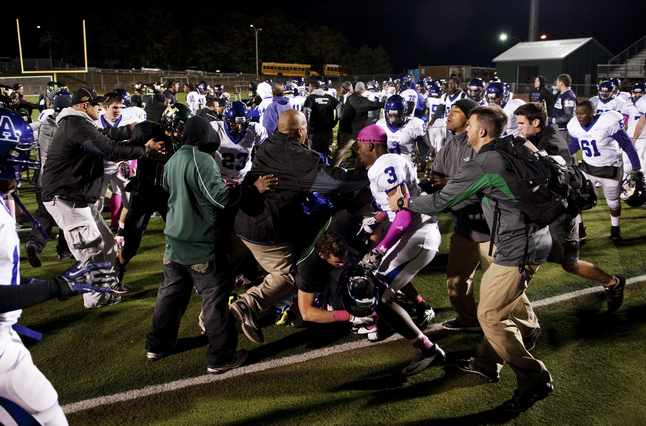 Daniel Brenner | AnnArbor.com
The 17-year-old student who was found responsible for an assault during the brawl that broke out after a Pioneer-Huron football game last fall was sentenced Tuesday to six months probation and a $50 fine.
Under a sentencing agreement, the incident will be expunged from the boy's record if he complies with the requirements of probation, which would involve community service. His attorney said the student will likely appeal the sentence.
"(He) is a good kid," said Shelia Blakney, the boy's public defender. "This whole incident has been very uncomfortable for him. This is a situation where the adults in his life led him astray."
The 17-year-old student was found responsible on one count of misdemeanor assault and battery on Feb. 6. He was originally charged with assault with intent to do great bodily harm less than murder, assault with a dangerous weapon, aggravated assault and assault and battery.
Blakney said the 17-year-old student, formerly of Pioneer and currently Ann Arbor Tech, has been distracted by becoming a public figure throughout the ordeal. The teen admitted as much when given a chance to address the court about recent poor school attendance. He said he has been suffering from "severe depression and anxiety" due to the situation.
"This is one major thing really bringing me down," he told Referee Julia Owdziej.
The boy also said he never touched Will Harris, the Huron student kicked in the face during the on-field football fight between the two high schools that began when one coach shoved the other.
Owdziej said the boy had acted appropriately throughout the court process, and that it was the coaches who had acted inappropriately on the field that night. She set a court date for Oct. 29, at which time the case could be dismissed.
But the disposition could be appealed before that happens. At issue is whether the boy struck anyone at all.
"I did not have any physical contact with Will," the boy told the court.
The defense did receive a correction to the disposition report regarding a statement in a new police report that says the boy testified to throwing punches, when in fact he never testified in court at all.
The boy's parents were both present and largely silent throughout the court proceedings. When asked for comment in the hallway outside the courtroom, the boy's father said, "My son is innocent. He's been railroaded."
The man did not wish to comment any further, but Blakney confirmed the boy's parents will likely appeal the disposition, though would not go into any further details. She said they would have to retain an attorney to start the process.
The 17-year-old is one of three students charged in the football melee, which started when coaches from Huron High School and Pioneer met after the game Oct. 12 and began a verbal altercation that turned physical when assistant coach Vince Wortmann shoved Huron head coach Cory Gildersleeve.
Wortmann was not charged because prosecutors ruled he believed he was defending Pioneer head coach Paul Test. Wortmann was fired after the incident. Both head coaches have since resigned.
Bashir Garain, the only student charged as an adult, took a plea deal earlier this month and is scheduled to be sentenced May 14.
A second 17-year-old rejected a plea offer that would have included a similar type of deferred sentencing and would have wiped his record clean if he complied with probation. His jury trial is set for June 24.
John Counts covers cops and courts for AnnArbor.com. He can be reached at johncounts@annarbor.com or you can follow him on Twitter.