Posted on
Fri, Apr 5, 2013 : 12:15 p.m.
Pioneer student charged in brawl rejects plea offer, set for trial in June
By John Counts
One of the 17-year-old Pioneer High School students facing assault charges after last fall's high school football brawl rejected a plea offer Friday that could have eventually removed the case from his record.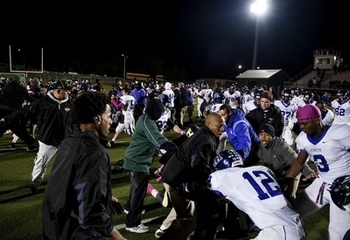 Assistant Washtenaw County Prosecutor
Julie Sisson
said if the boy admitted responsibility or pleaded no contest to a misdemeanor assault and battery charge, the prosecution wouldn't object to a sentencing agreement or a deferred sentencing.
A deferred sentencing allows the defendant to have the charges wiped from his or her record if the defendant fulfills certain obligations, usually involving probation and fines.
The boy's attorney, Brooke Williams, told Judge Donald Shelton she informed her client of his choices in the plea deal, but that he declined.
"He has decided he wants to proceed to trial," she said.
A jury trial was scheduled for June 24. There will be a chance at a plea deal before then, however. A final pretrial hearing was scheduled for June 7. A resolution in the case could come anytime between now and then.
June 7 is also the deadline for both the defense and prosecution to share evidence in the case. Sisson said she was still waiting for evidence from a Twitter account, but did not elaborate in court about what the content from the account might reveal.
After the hearing let out, the boy hugged his mother in the hallway of the courthouse and greeted some of the many supporters from the Ann Arbor Concerned Citizens for Justice group who were on hand to protest. The group alleges the charges are racially motivated. All three students charged in the incident are black.
The brawl started when coaches from Huron High School and Pioneer met after the game Oct. 12 and began a verbal altercation that turned physical when assistant coach Vince Wortmann shoved Huron head coach Cory Gildersleeve.
Wortmann was not charged because prosecutors ruled he believed he was defending Pioneer head coach Paul Test.
Wortmann was fired after the incident. Both head coaches have since resigned.
The Ann Arbor Board of Education passed a resolution last month asking the Washtenaw County Prosecutor's Office to "re-evaluate the degree of criminalization" of the three students' actions during the brawl.
The boy — whom AnnArbor.com is not naming because he is a juvenile — is charged with assault with intent to do great bodily harm less than murder, assault with a dangerous weapon, aggravated assault and assault and battery.
A second 17-year-old Pioneer student was found responsible on one count of misdemeanor assault and battery on Feb. 6. He is awaiting disposition, the equivalent of a sentencing in juvenile court, which is scheduled for April 30. The juveniles are both accused of kicking a Huron High School player in the face.
A jury trial for 18-year-old Bashir Garain, the third Pioneer student charged in the melee, is set to begin Monday. Police said Garain swung his crutch at a group of players during the brawl. Garain is accused of using his crutch as a dangerous weapon during the fight. He faces two felony counts of assault with a dangerous weapon and two misdemeanor counts of assault and battery.
John Counts covers cops and courts for AnnArbor.com. He can be reached at johncounts@annarbor.com or you can follow him on Twitter.