Man's attorney to challenge statements in rape case
Posted on Thu, Oct 18, 2012 : 6:30 p.m.
The attorney representing an 18-year-old Ann Arbor man who allegedly broke into a woman's apartment and raped her will challenge some of the statements made by his client in the police investigation.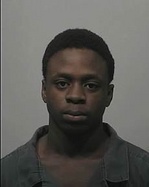 Courtesy of Washtenaw County Sheriff's Office
Marcus Wilson is charged with first-degree home invasion and first-degree criminal sexual conduct for a July 3 incident. According to Ann Arbor police, Wilson broke into a woman's apartment, in the 1200 block of South Oakland Avenue, at 1 a.m. and raped her in her bed.
Washtenaw County Assistant Public Defender Christopher Renna asked Washtenaw County Trial Court Judge David Swartz to schedule a Walker hearing next month. A Walker hearing is an evidentiary hearing that determines whether the statements the defendant made to police were voluntary.
Swartz granted the request and scheduled the hearing for 9 a.m. Nov. 16.
Wilson also is charged with second-degree home invasion for a break-in on June 19 in the 700 block of South Forest Avenue. Police connected Wilson to the two break-ins and interviewed him at the Washtenaw County Jail, where he's currently serving time for unlawfully driving away an automobile.
Although he's been serving the jail sentence since August, Wilson was given a $125,000 bond in the two home invasion cases.
Police have emphasized they believe Wilson's case is disturbing and have said it was "heinous" and "nightmarish."
If convicted, Wilson faces a maximum of life in prison on the first-degree criminal sexual conduct charge.