Posted on
Wed, Sep 26, 2012 : 2:27 p.m.
Catalytic converter thefts: 7 stolen in Pittsfield as county sees spike
By Kyle Feldscher
A recent spike in the number of catalytic converter thefts at apartment complexes in Pittsfield Township has police reminding residents to keep an eye on their vehicles.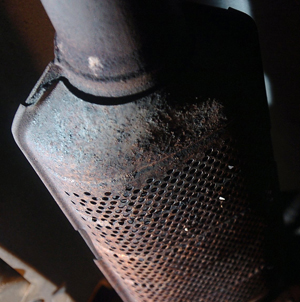 Pittsfield Township Deputy Police Chief
Gordy Schick
said catalytic converters were stolen from vehicles parked at the
Golfside Lakes
,
Ridgewood
,
Spice Tree
and
Glencoe Hills
apartment complexes between Sept. 16 and Saturday. Schick said catalytic converter thefts were getting less frequent before last week's sudden spike.
"We're now starting to see an increase in those thefts again," he said. "We're increasing patrols in those areas and we encourage folks in those areas, if they see something, to give us a call."
In the last week, at least eight catalytic converters have been reported stolen in various parts of Washtenaw County, including the University of Michigan's North Campus, Ypsilanti Township and Ann Arbor Township.
Catalytic converter thefts were a big issue about a year ago in Washtenaw County, but Schick said the number of thefts reported to Pittsfield Township police had slowed down during the last few months.
The converters fetch between $70 and $80 from scrap metal dealers and contain precious metals such as platinum, rhodium and palladium. Catalytic converters convert toxic fumes into non-toxic gases released by a vehicle's exhaust system.
All of the thefts in Pittsfield Township were reported to have occurred in the overnight hours, Schick said. Most were reported between midnight and 7 a.m.; however, one incident was reported between 9 p.m. and 2 p.m., Schick said. It's unknown at this point if all the thefts are related or are some how related to other thefts in the county.
Anyone with information on these thefts is encouraged to call Crime Stoppers at 1-800 SPEAK UP (773-2537).
Kyle Feldscher covers cops and courts for AnnArbor.com. He can be reached at kylefeldscher@annarbor.com or you can follow him on Twitter.