Posted on
Wed, Jun 1, 2011 : 12:10 p.m.
City of Ann Arbor plans to file lawsuit against Dream Nite Club
By Lee Higgins
The city of Ann Arbor plans to file a lawsuit against Dream Nite Club that would ask a judge to declare the business a nuisance, City Attorney Stephen Postema said today.
Postema declined to specify when the suit might be filed against the club on South Fourth Avenue, where three people were stabbed May 1 and a fight broke out Sunday that resulted in a man being shot in a neighboring parking lot.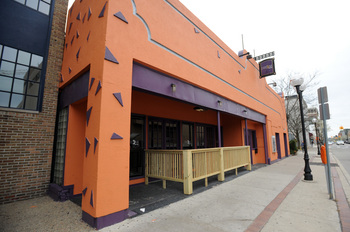 Melanie Maxwell | AnnArbor.com
It would be up to a judge to decide whether to take action against the club, which could include shutting it down, Postema said. The city has notified the club's attorneys of its intent to file suit, Postema said.
Vickash Mangray, who runs the club and previously operated it under the name Studio 4, could not be reached for comment. Attorney David Shand, who represents the club, said everyone who enters the club is patted down. Security people inside wear fluorescent green jackets, so patrons can easily get their attention, he said. The club serves drinks only in plastic containers, not glass, he said.
Shand said the fight on Sunday occurred roughly a half-hour after the club closed in a parking lot the club doesn't own. No one brought a weapon into Dream, he said.
"We cannot control a parking lot that's owned by the United States Postal Service," he said.
Ann Arbor Police Chief Barnett Jones did not return a phone call seeking comment today.
Studio 4 closed in June after city officials raised concerns over a two-year period about problems at the business, including large-scale fights. The club reopened two months later under the name Dream Nite Club. Postema said the lawsuit will take into account the history of activity at Studio 4.
There have been two serious fights at Dream Nite Club last month.
Mayor John Hieftje, who expects the suit to be filed this week, said the city attorney's office and police officials have had numerous conversations in the past with people running the club, but they have not taken steps to change their ways.
"Things are escalating there and it's a little bit of a race to see if we can get cooperation from the courts before something even more serious happens," he said.
On Sunday, 21-year-old Cornelius Wilson of Ypsilanti was arrested, accused of shooting a man in the forearm in the parking lot in between the club and Champion House Restaurant & Sushi Bar shortly after the club let out, police said. He faces charges including four counts of assault with intent to murder. A crowd of between 40 and 60 people had gathered in the lot, some of whom had been fighting inside the bar, police said. A 22-year-old Westland man, who suffered the gunshot wound and was assaulted, was hospitalized, police said. Another man injured during the fight was treated at a hospital and released.
Police also said a 23-year-old Westland man who fired multiple shots in the air was taken into custody and then released as Washtenaw County prosecutors decide whether to file criminal charges.
On May 1, a man cut two men in the face and a woman in the leg with a sharp object during a fight on the club's dance floor. The man had been kicked out of the club earlier in the night.
No arrests have been made in that case.
Lee Higgins covers crime and courts for AnnArbor.com. He can be reached by phone at (734) 623-2527 and email at leehiggins@annarbor.com.