Posted on
Wed, Apr 6, 2011 : 5:55 a.m.
Lawsuit alleges college student was severely beaten by bouncers at The Fifth Quarter in Ann Arbor
By Lee Higgins
A college student from Livonia is alleging in a lawsuit that at least two bouncers at The Fifth Quarter nightclub in Ann Arbor severely beat and choked him last year, then threw him out on the street while he was unconscious.
Geoff Gaylor is suing The Fifth Quarter, 26-year-old Timothy Phillips of Pinckney and 28-year-old Dominik Gumul of Ann Arbor, seeking an unspecified amount of money.
Phillips and Gumul are awaiting trial on charges of aggravated assault and assault and battery after Ann Arbor police investigated the Feb. 6, 2010, incident.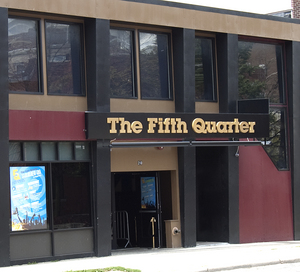 fifth quarter
According to the suit filed last week in Washtenaw County court, Gaylor was a customer at the South Fifth Avenue club that night. The suit claims that bouncers, including Phillips and Gumul, "grabbed, severely beat and choked" Gaylor until he was unconscious.
The suit alleges those two and other employees then put Gaylor, a basketball player at Madonna University in Livonia, on the street while he was unconscious. Gaylor was hospitalized with a "severe head laceration and traumatic brain injury," the suit says.
The suit claims the bar was negligent in failing to properly train employees.
Phillips could not be reached for comment Tuesday. Gumul, who worked part-time at the bar, told AnnArbor.com that he is shocked at the allegations being made, but had no further comment.
Attorney David Rosenberg, who represents The Fifth Quarter, did not return a phone call seeking comment Tuesday.
The club was recently listed for sale for $1.8 million. City officials have been in talks with club owners about the possible non-renewal of the bar's liquor license due to numerous police calls to the location.
Lee Higgins covers crime and courts for AnnArbor.com. He can be reached by phone at (734) 623-2527 and email at leehiggins@annarbor.com.