Posted on
Thu, Apr 25, 2013 : 12:39 p.m.
Crime Stoppers offering $1,000 for information on graffiti in Ann Arbor
By Kyle Feldscher
Graffiti in Ann Arbor is a hot-button issue for many business owners, politicians, police investigators and the residents who drive and walk by the tags around town.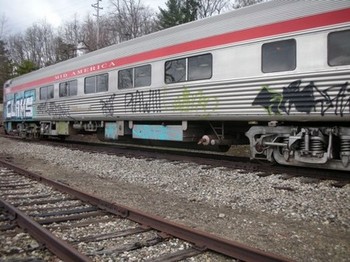 Now, Crime Stoppers of Michigan is offering a cash reward for information
Troy Macon, Washtenaw County director of Crime Stoppers, said in a statement Thursday that the organization is offering $1,000 for information regarding graffiti and vandalism.
"Ann Arbor police and Crime Stoppers of Michigan are working to crack down on graffiti and vandalism in the county," Macon said. "Crime Stoppers is offering $1,000 cash rewards for information … regarding graffiti and vandalism."
Macon said photographs of people doing graffiti, names, addresses or any other information that can lead to arrests and apprehensions are welcome.
City officials repeatedly have said in previous months that vandalism suspects have been identified and Ann Arbor police are building a case against them. Graffiti consistently is being discussed in Ann Arbor and made headlines this month when six rail cars at the Arttrain site were vandalized.
Approximately $60,000 in damage was done between 1:30 a.m. and 10 a.m. on April 13 when vandals tagged the cars with "Clams," "Raw" and other words that were difficult to decipher.
Police did not have any suspects in that incident and were investigating if the tagging was related to other incidents that happened downtown and around the county.
Earlier this month, 18-year-old Tayo Norton was charged with spray-painting and using paint markers in the Library Lane underground parking garage in December. Norton is only believed to be a suspect in that isolated incident.
Anyone with information is encouraged to call Crime Stoppers at 1-800-SPEAK UP (773-2587).
Kyle Feldscher covers cops and courts for AnnArbor.com. He can be reached at kylefeldscher@annarbor.com or you can follow him on Twitter.