Posted on
Wed, Jul 11, 2012 : 8:20 a.m.
Driver of vehicle that allegedly caused US-23 rollover crash that killed 2 children comes forward
By Kyle Feldscher
This story has been updated to clarify the woman is not under arrest and is working with police through an attorney
The driver of the Honda Odyssey who allegedly caused a rollover crash and killed two children in June has begun working with police through an attorney, officials confirmed Wednesday.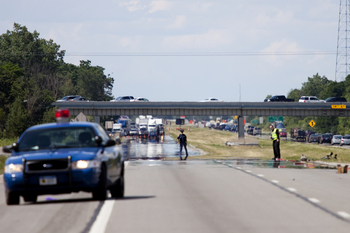 Michigan State Police Detective Sgt. Dale Smith said the woman contacted police through an attorney, ending the two-and-a-half week search. Smith said the woman is not under arrest, not in custody and is working with police through an attorney. He said she is a person of interest in the case.
The trooper investigating the case was out on the road Wednesday morning and could not be reached by AnnArbor.com.
According to police, witnesses said the woman driving the Honda Odyssey moved into the lane occupied by the 1999 Ford Expedition driven by Dawn Siegel. Along with Siegel in the Expedition were six children — her four children and two step-children.
Ashley Siegel, 11, and Jordan Siegel, 14, were killed when the Expedition rolled several times and came to rest on its roof in the median of southbound US-23 south of Michigan Avenue. Both children died at the scene of the crash.
Ashley and Jordan were students at Royal Oak Middle School. Their funeral was on June 26.
After the crash, the woman driving the Odyssey continued to go southbound on US-23.
Police said in the days following the crash that it would be difficult to find her since no one who called the collision in to 911 actually followed the vehicle.
Smith said the woman had turned in the Odyssey.
The woman's name is not being released at this time because she has not been formally arraigned on any charges.
This story will be updated with more information as it becomes available.
Kyle Feldscher covers cops and courts for AnnArbor.com. He can be reached at kylefeldscher@annarbor.com or you can follow him on Twitter.