Posted on
Tue, Jan 22, 2013 : 5:21 p.m.
Former EMU basketball player sentenced for Rhode Island assault
By John Counts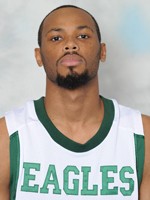 James Still was sentenced Tuesday for his part in an assault that took place in Rhode Island nearly three years ago, before he joined the Eastern Michigan basketball team, the Detroit Free Press reports.
Still was kicked off the EMU team in November after pleading guilty to the felony.
The Free Press reports that a Rhode Island judge ordered Still to serve four years in jail and the rest of the sentence on probation.
In April 2010 when Still was a freshman at Providence College, where he also played basketball, he and teammate Johnnie Lacy attacked a fellow student, Yerkin Abdrakhmanovon, on campus, AnnArbor has reported.
Both Still and Lacey were kicked off Providence's basketball team in 2010 and suspended from school. Lacy took a plea deal and will serve three years of a 10-year sentence. Still eventually took a plea deal, as well.
Still, a Detroit native, enrolled at Henry Ford Community College in Dearborn after leaving Providence. He then moved on to EMU.