Posted on
Fri, Nov 16, 2012 : 10:15 p.m.
UPDATE: Eastern Michigan kicks James Still off basketball team following felony plea
By Pete Cunningham
James Still has been dismissed from the Eastern Michigan men's basketball team, the university announced early Friday evening.
Still, 21, pleaded guilty on Tuesday to felony assault in Rhode Island in relation to an incident in April 2010 when Still, then a freshman at Providence College, and Providence teammate Johnnie Lacy attacked a fellow student, Yerkin Abdrakhmanovon, on campus.
Eastern Michigan policy on student-athlete discipline states that any student-athlete who is convicted of or pleads no contest to a felony charge be permanently dismissed from the team.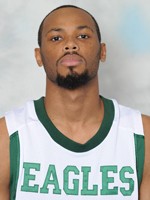 "Accordingly, James Still is dismissed from team activities," read a statement released from Eastern Michigan early Friday evening. "The student-athlete discipline policy allows for an appeal process should the student athlete so choose."
The school announced earlier in the day on Friday that Still had merely been suspended from game action. In the earlier statement the Eastern Michigan University Department of Intercollegiate Athletics stated it was were aware of Still's legal situation when he was admitted to school and that he, "was admitted to the University in the fall of 2012 based upon numerous positive recommendations and after he had earned an associate degree from Henry Ford Community College."
In the second statement released from the school on Friday, school officials said, "EMU takes the safety of its campus seriously and has an admissions process that balances the safety and security of campus with the goal of providing an opportunity to individuals who have made mistakes in the past. A student who indicates that they have criminal charges pending against him or her is not automatically precluded from admission to the University. An Admissions Review Board reviews their application and makes a determination regarding admission."
Both Lacy and Still were kicked off of Providence's team in 2010 and suspended from school. Lacy took a plea deal in May of this year and will serve three years of a 10-year sentence. Still rejected a plea deal in May, but on Tuesday pleaded guilty in court. He is scheduled to be sentenced on Jan. 8.
After leaving Providence, Still, a Detroit native, enrolled at Henry Ford Community College in Dearborn where he averaged 15.8 points, 12.6 rebounds and 5.2 blocked shots last season before enrolling at Eastern.
Still, a 6-10 junior forward, played a total of 28 minutes in Eastern's first two games, scoring six points and grabbing seven rebounds. Still was suspended from game activities early on Friday and dismissed from the team later in the day.
Eastern Michigan defeated Eastern Illinois on Friday, 60-52.
Pete Cunningham covers sports for AnnArbor.com. He can be reached at petercunningham@annarbor.com. Follow him on Twitter @petcunningham.