Posted on
Tue, Nov 8, 2011 : 7:43 a.m.
From daylilies to drug courier? More details on 87-year-old found with 228 pounds of cocaine
By Paula Gardner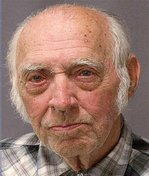 Leo Sharp, the 87-year-old Indiana man arrested near Chelsea with 228 pounds of cocaine in his truck, is a "colorful eccentric," according to a story in today's Detroit News.
Some of that personality came out during an Oct. 24 court appearance.when his comments made onlookers - including attorneys - laugh, but also prompted his attorney to warn him that he didn't have to talk.
At that hearing, Sharp told a federal judge that he'd been forced at gunpoint to travel with the drugs toward Detroit.
He was arrested Oct. 21 just outside of Chelsea on I-94 when a Michigan State Police trooper pulled him over for improper lane use and following too closely. A drug dog "hit" on the car a short time later.
According to sources in the Detroit News story, Sharp may have been in line to earn at least $100,000 for the trip.