Posted on
Wed, Sep 21, 2011 : 12:46 p.m.
Hearing delayed for man accused in Ann Arbor-area beating death
By Cindy Heflin
A preliminary examination for a man accused in a beating death at an Ann Arbor-area auto dealership was delayed until Oct. 6, the Daily Press & Argus reported.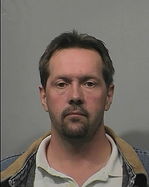 Shane Noel Roscoe, 46, of Redford, is charged with murder in the beating death of William Sam Kenney, 55, of Lodi Township, who worked at Jim Bradley Pontiac-Buick-GMC on Jackson Road, where Roscoe was formerly employed.
Kenney was critically injured Aug. 18, 2006, after being beaten and run over during a robbery at the dealership. He died 27 days later.
Roscoe was arrested days after the robbery and jailed for two nights, then released by Washtenaw County sheriff's investigators, who obtained a sample of his DNA. He maintained his innocence.
In September, he was charged with murder in the case. Sheriff's deputies said the arrest came after new evidence, but they have not elaborated.
Roscoe ran unsuccessfully for Putnam Township supervisor in 2006.
He faces up to life in prison if convicted.