Posted on
Thu, Dec 20, 2012 : 1:05 p.m.
Judge denies motion to quash ruling against man accused of murdering car dealership employee
By Kyle Feldscher
Court proceedings against one of the men accused of murdering a car dealership employee during a burglary in 2006 will move forward after a judge denied a motion to quash Wednesday.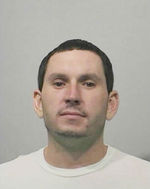 Courtesy of the Washtenaw County Sheriff's Office
Jonathon Aiden, 32, is accused of working with Shane Roscoe to kill William Kenney during a break-in at the Jim Bradley Pontiac GMC dealership in August 2006.
Steven Tramontin, Aiden's attorney, attempted to get Washtenaw County Trial Court Judge Archie Brown to quash the case Wednesday, but Brown denied the motion.
Tramontin said there has been no evidence produced to this point, specifically during the preliminary exam, that showed Aiden had any intent to kill Kenney. Aiden is charged with open murder, which is a charge that requires prosecutors to show intent.
"There has to be some finding of intent, these are specific intent crimes," Tramontin said, adding, "fleeing the scene does not constitute malice."
In order to grant a motion to quash, which would essentially dismiss the case, Brown would have had to rule District Court Judge Richard Conlin abused his authority by binding the case over to the circuit court without having enough evidence to do so.
However, Brown found the evidence presented at the preliminary exam held in August and September was sufficient to find probable cause Aiden killed Kenney with Roscoe. He said the argument brought up by Tramontin wasn't a question of probable cause, but instead if there was reasonable doubt. It's up to the jury to decide that question, he said.
"It has to do with whether the people can prove the charge beyond a reasonable doubt," Brown said in his ruling.
In addition to open murder, Aiden is charged with breaking and entering with intent to commit a crime, safebreaking, conspiracy to commit breaking and entering and conspiracy to commit safebreaking. If convicted, he faces a maximum of life in prison.
Roscoe has already been convicted on murder charges relating to the case. He's serving a life sentence.
The motion to quash was one of five motions Tramontin argued in front of Brown Wednesday. Brown ruled statements made by Kenney while he was in the hospital prior to his death could be used as evidence and denied a motion to suppress testimony from Kim Roscoe that may allude to evidence that has already been declared inadmissible.
Tramontin and Washtenaw County Assistant Prosecutor Dianna Collins argued two other motions that Brown decided to rule on at a later date. One was Tramontin's motion to suppress evidence related to a phone call Aiden may have made from jail to his mother attempting to get her to create his alibi. The other motion was Tramontin's attempt to suppress evidence from online searches Roscoe made in the days after Kenney's death related to his client.
Collins went over the details of Kenney's death in court Wednesday, telling Brown the prosecution intends to prove Aiden and Shane Roscoe worked at the dealership they were attempting to steal from. When they were in the process of the burglary, Kenney interrupted them and - knowing he could identify the both of them - the two of them killed him, Collins said.
The two men were charged on an aiding and abetting basis and Collins said Aiden is just as responsible for Kenney's death as Roscoe, who has already been convicted.
"The defendants are responsible for each other's actions," she said.
Kyle Feldscher covers cops and courts for AnnArbor.com. He can be reached at kylefeldscher@annarbor.com or you can follow him on Twitter.