Posted on
Mon, Jun 11, 2012 : 12:53 p.m.
Jury finds man guilty of murder in Scio Township car dealership beating
By John Counts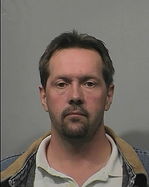 This story contains additional information from the Washtenaw County Prosecutor's Office.
Nearly six years after William Kenney was fatally beaten at a car dealership, Shane Noel Roscoe was found guilty of first-degree felony murder.
A jury in Judge Archie Brown's courtroom in the Washtenaw County Trial Court also found Roscoe guilty of safe breaking, breaking and entering and resisting and obstructing on Friday, according to a release from the Washtenaw County Sheriff's Office.
The jury returned its verdict at 6:30 p.m. Friday after nearly four hours of deliberation, according to the prosecutor's office.
His sentencing is scheduled for July 18 in the trial court. At his sentencing, Roscoe will be treated as a habitual offender with three or more prior felony convictions. This could increase the maximum penalties for the counts of breaking and entering and resisting a police officer.
Roscoe's previous convictions include attempted burglary, unarmed robbery and receiving and concealing stolen property, all in 1984; escape from prison in 1986; stalking in 1997 and assault with a dangerous weapon in 2001.
The possible penalty for first-degree felony murder -- murder while committing a felony -- is life in prison without parole.
On May 30, Roscoe made it clear he did not want to entertain a plea deal.
Earlier that month, the prosecution scored a victory when the judge allowed statements made by Kenney from the hospital, where he died 27 days after the beating.
Roscoe was convicted of breaking into his former place of employment, Jim Bradley Pontiac GMC in Scio Township, and stealing auto-related equipment and materials. During the break-in, he came into contact with Kenney, who worked at the dealership. The incident occurred on Aug. 18, 2006.
Prosecutors said Roscoe, along with another man, Jonathon Aiden, hit Kenney on the head with a hard object and then ran him over with a vehicle.
Kenney was taken to U-M Hospital, where police questioned him on at least two occasions before he died from the injuries on Sept. 14, 2006. Roscoe, an ex-Democratic candidate for Putnam Township supervisor, wasn't arrested and charged in the case until 2011.
"This has been a long and arduous process for the Kenny family and the sheriff's investigators who worked tirelessly to bring this case to trial," said Washtenaw County Assistant Prosecutor Dianna Collins. "I am sure it was a difficult trial for the jurors who were clearly diligent in discharging their duty. The Kenney family was gratified to see that the court system works and that justice was done."
Roscoe remains in the Washtenaw County Jail, where he is being held without bond.
John Counts covers cops and courts for AnnArbor.com. He can be reached at johncounts@annarbor.com or you can follow him on Twitter.