Judge grants 2nd competency exam for Ann Arbor woman accused of fatally stabbing father
Posted on Wed, Oct 3, 2012 : 9:01 a.m.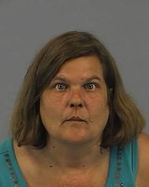 Courtesy of the Washtenaw County Sheriff's Office
An Ann Arbor woman with a history of drug abuse and schizophrenia will be examined a second time to determine if she was criminally responsible when she allegedly stabbed her father 25-30 times in June.
At an August court hearing, Susan Wade, 48, was found competent to stand trial on an open murder charge. Doctors at the Center for Forensic Psychiatry in Ypsilanti made the determination, officials said.
Wade appeared in the Washtenaw County Trial Court Tuesday before Judge Donald Shelton who granted the defense's request for an independent competency evaluation. The prosecution had no objection.
The motion included a clause that the amount for the evaluation cannot exceed $1,500.
Wade is accused of killing 86-year-old Ronald Mason on June 9 in the home they shared in the 1700 block of Covington Drive in Ann Arbor. AnnArbor.com previously has reported Wade allegedly stabbed Mason repeatedly after midnight on June 9 when he was sleeping. That same day, Wade allegedly continued the attack when she returned to the bedroom and thought she saw Mason moving.
Wade's family told AnnArbor.com she has a past history of drug abuse and schizophrenia.
Her daughter was the one who eventually called police and reported Mason's death. Police said Wade barricaded herself inside the home before allowing her daughter to enter, showing her Mason's body. Wade was arrested at the home that same day.
Wade remains in custody at the Washtenaw County Jail with no bond. Her next scheduled court hearing is Oct. 23. Her public defender, Gina M. Noveskey, said they hope to have the results of the examination before that hearing. If they do not, Shelton said the hearing date will be rescheduled.