Posted on
Sun, Jun 10, 2012 : 12:49 p.m.
Charges pending against adopted daughter in killing of elderly Ann Arbor man
By Sven Gustafson
Updated coverage: Susan Wade held without bond after being charged with stabbing death of elderly father
An Ann Arbor woman with a history of mental illness is suspected in the stabbing death of her adoptive father, an 87 year-old man who was found dead in his home Saturday on the city's west side, AnnArbor.com has learned.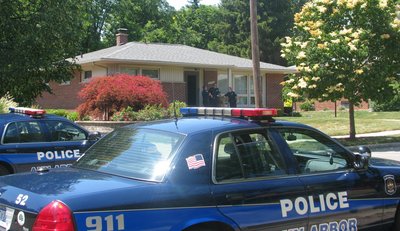 Cindy Heflin | AnnArbor.com
Charges are expected to be filed Monday against
Susan Ellen Wade
, 48, in the death of
Ronald Mason
, at his home on the 1700 block of Covington Drive. Wade's biological daughter,
Kristine Crossman
, of Adrian, confirmed the details.
"My mother pretty much stabbed my dad and I pretty much broke into the house and found my dad lying on the floor dead," Crossman said.
Crossman said she considers Mason, who adopted her immediately after she was born and raised her with his late wife, to be her father.
Ann Arbor Police Sgt. Matt Lige said authorities would not release the names of the victim or suspect until an arraignment Monday. Wade was listed as an inmate at the Washtenaw County Jail on Sunday.
Crossman said her mother was schizophrenic and has a history of drug abuse. She had stayed for five days with Mason, who was battling pancreatic cancer.
Crossman said she had taken her 4-year-old daughter over to see Mason on Saturday, when he was due to learn from a doctor whether his cancer therapy program had been successful. She knew her mother was staying there but was going to deliver Mason a get-well card and take him out to dinner.
When she arrived, Crossman said she found all the screen doors locked and the main doors barricaded from within with chairs and tables. Wade was leaning against the doors trying to keep her daughter from entering.
"She had both the doors barricaded. Meaning you could not get in," Crossman said.
Once she managed to gain entry, Crossman said her mother exclaimed, "I'm a psychotic b----" before leading her to Mason.
There was blood everywhere, Crossman said.
"I just ran out the house because at that point I was just in shock and I was like, I cannot be in this situation right now, I've gotta call the police," she said.
Crossman said her daughter remained in the car while she tried to break into Mason's home.
"She just kept screaming at the top of her lungs, 'I wanna see papa, I wanna see papa,'" Crossman said. City records show the home was owned by a trust registered to Mason and his wife, Josephine, who died of cancer several years ago. The couple first purchased it in 1990.
Ronald Mason had planned to travel to Alaska in July, Crossman said.
George Hartman said he knew Ronald Mason and his family and described his neighbor as a good man who took care of his yard. Despite being retired, he continued to work part-time delivering prescription drugs to pharmacies.
"Ron's dead ... I got lumps in my stomach right now," Hartman said. "My wife also feels bad about it. He was just a good person and he helped (Kristine), too, and took care of Susan."
Crossman said Wade has a history of drug abuse and gave her up for adoption by the Masons — Wade's own adoptive parents — at the hospital immediately after she was born.
"I never considered her my mother because she was never there for me," Crossman said.
Wade's brother, who lives in Alabama, was also adopted by the Masons, she said.
Hartman said he had seen Wade at Mason's home several times during the past week.
"I've seen her," said Hartman, 78. "She used to come and talk to me a little bit once in a while as my friend. She was a heavy smoker and she didn't come in the house, she would sit on the deck and talk.
"She loved her daddy. When he wasn't around, she said, 'You know where my daddy is?' I said no, I don't. She loved her daddy, but… she's just a mixed-up person."
Lige said police interviewed several people about the incident and had collected several pieces of evidence. Another neighbor told AnnArbor.com they saw police cruisers at the residence on Sunday, along with television news crews.
Residents describe the neighborhood, just south of Dicken Elementary School, as quiet and made up mostly of senior citizens with a sprinkling of families with younger children.
"It's like the Garden of Eden," said Thomas Simon, who lives a block away on Barrington Place and was returning from a stay in the hospital Saturday when he saw the commotion down the street.
"It's very quiet and clean. I don't know what happened, but things like this will happen anywhere, I guess. I'm very pleased with the neighborhood, the neighbors. The city gives us great service."
Crossman said her mother deserves to be locked up indefinitely.
"We're going to do whatever we can to make sure she's put away for the rest of her life," Crossman said. "I don't ever want to see her again."
Previous coverage: Woman in custody as Ann Arbor police investigate death of 86-year-old man
Contact freelancer Sven Gustafson at sventg123(at)gmail(dot)com, or follow him on Twitter.