Jury finds man guilty of robbing Ann Arbor Denny's and Circle K
Posted on Wed, Oct 3, 2012 : 4:40 p.m.
A jury found a 42-year-old man guilty of robbing a restaurant and gas station in Ann Arbor in April.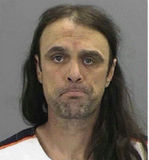 Courtesy Ann Arbor police
Jason Davis was found guilty on two charges of armed robbery last week, court records show. Davis was accused of robbing the Denny's at 3310 Washtenaw Ave. and Circle K gas station at 1420 E. Stadium Blvd. the night of April 14 and early April 15, respectively.
According to police, Davis robbed the Denny's at 11:10 p.m. April 14 and the Circle K at 3:15 a.m. April 15. Small amounts of cash were taken in both incidents and no one was injured.
Davis was reportedly carrying a gun during the robberies.
Davis has been lodged at the Washtenaw County Jail since he was arraigned on April 20. He's scheduled to be sentenced at 1:30 p.m. Oct. 23 by Washtenaw County Trial Court Judge Donald Shelton.
The maximum sentence for armed robbery is life in prison.
This is not the first time Davis has been convicted of a felony. State records show convictions for bank robbery in 2007, two counts of larceny in a building for a 2003 incident, escaping from prison in 1999 and two counts of armed robbery in 1990. The 42-year-old was listed as an absconder from parole before his arrest.