Posted on
Fri, Feb 8, 2013 : 3:32 p.m.
Jury finds 2nd man guilty of murder in 2006 fatal beating
By John Counts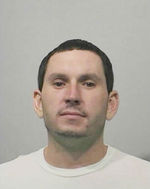 Courtesy of the Washtenaw County Sheriff's Office
A jury found 32-year-old Jonathan Aiden guilty on all counts in the 2006 murder of William Kenney, according to officials.
The jury reached its decision Friday afternoon, a week after the trial started on Monday.
Aiden's uncle, Shane Roscoe, was convicted last year of the murder and was sentenced to life in prison.
Aiden was charged with open murder, breaking and entering with intent to commit a felony, safe-breaking, conspiracy to commit breaking and entering and conspiracy to commit safe-breaking.
Prosecutors said Aiden and Roscoe beat the 55-year-old Kenney to death during a break-in at the Jim Bradley Pontiac GMC in Scio Township on Aug. 18, 2006. Aiden and Roscoe were stealing auto-related equipment and materials and came into contact with Kenney, who worked at the dealership. Both Roscoe and Aiden were former employees of the dealership.
Prosecutors said Roscoe and Aide hit Kenney on the head with a hard object and then ran him over with a vehicle.
Kenney was taken to U-M Hospital, where police questioned him on at least two occasions before he died from the injuries on Sept. 14, 2006.
John Counts covers cops and courts for AnnArbor.com. He can be reached at johncounts@annarbor.com or you can follow him on Twitter.