Posted on
Wed, May 4, 2011 : 1:41 p.m.
Lawyer says man accused of running over ducklings with Hummer has received hate mail
By Lee Higgins
A preliminary hearing for a man accused of deliberately running over four ducklings with a Hummer last Monday in a McDonald's parking lot has been rescheduled for May 18 at the request of the man's attorney.
Dillon Robert Pearce, 19, of Ann Arbor, is charged with killing an animal.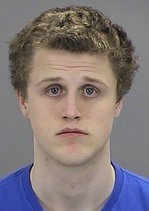 Pearce made a brief appearance this afternoon in 14A District Court, where his attorney,
David Nacht
, asked that the case be adjourned to give him more time to prepare.
Ann Arbor police say Pearce intentionally ran over the ducklings in the parking lot of the McDonald's at 2675 Plymouth Road about 6:30 p.m. April 25.
Nacht said today after the hearing that the killing of the ducks was an unfortunate accident. Nacht said people hit deer all the time in Michigan, and he's sorry that police are pursuing the case despite receiving statements from other people in the Hummer that it was unintentional.
"I don't want us to become a state where we start prosecuting roadkill, that's all," Nacht said.
He encouraged people to let the case work its way through the court system before making judgments.
"People have actually sent my client hate mail, and people have actually sent me hate mail over this case, and it's disturbing."
If convicted, Pearce faces up to four years in prison.
Lee Higgins covers crime and courts for AnnArbor.com. He can be reached by phone at (734) 623-2527 and email at leehiggins@annarbor.com.