Man accused of shooting out cab window takes plea deal
Posted on Wed, Oct 3, 2012 : 4:35 p.m.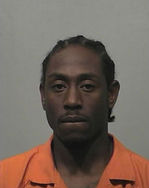 Courtesy of WCSO
A Superior Township man accused of shooting at a cab's windshield after fighting with the driver took a plea deal in the Washtenaw County Trial Court Monday.
Eddie Charles Gardner Jr., 25, pleaded guilty to charges of assault with a dangerous weapon, discharging a firearm from a vehicle and felony firearm, according to court records. The charges of carjacking, possession of a firearm and resisting a police officer will be dismissed at the time of sentencing.
Judge Melinda Morris also agreed not to sentence Gardner as a habitual offender.
Gardner was accused of pulling out a gun Aug. 30 during an argument with a cab driver, AnnArbor.com previously reported. The driver had picked Gardner and a woman up near Plymouth and Dixboro roads and was taking them to Superior Township.
According to police, Gardner fired one shot through the cab's windshield before the driver grabbed the weapon and struggled with Gardner. Gardner and the woman are accused of fleeing on foot. They were arrested by Washtenaw County Sheriff's Office deputies in a field near Gabriel Richard High School.
Gardner remains at the Washtenaw County Jail on a $75,000 cash bond.