Posted on
Fri, Aug 3, 2012 : 5:59 a.m.
Police say man committed 2 armed robberies, 1 home invasion after leaving jail on bond
By Kyle Feldscher
On Feb. 3, Daniel Campbell promised Magistrate Thomas Truesdell he'd come back to court in exchange for leaving jail after he was arraigned on a home invasion charge.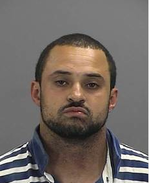 Courtesy of the Washtenaw County Sheriff's Office
But now warrants filed on Thursday morning show Campbell is a suspect in two armed robberies and a home invasion involving the theft of two firearms, according to court records. All of the crimes happened while he was out of jail on bond, records show.
Campbell, a 36-year-old Ann Arbor man, was arrested on May 14 on suspicion of breaking into a residence. He was charged with first-degree and second-degree home invasion and assaulting, resisting or obstructing a police officer two days later. During that arrest, Campbell ran from Ann Arbor officers after allegedly breaking into homes in the 700 block of Kingsley Street and the 1000 block of Fuller Street.
That chase went through the Huron River before Ann Arbor officers managed to put him in cuffs.
It came to light Thursday that Campbell also is accused of robbing an Ypsilanti Township Burger King, an Ann Arbor Subway and breaking into a Pittsfield Township home in a crime spree that started almost two months after his first arrest.
On March 31, Campbell was eating at the Burger King on Michigan Avenue in Ypsilanti Township, according to Sgt. Geoffrey Fox, of the Washtenaw County Sheriff's Office.
"After eating, he allegedly jumped the counter and ordered employees to give him the money in the cash register, implying he had a handgun," Fox said.
On April 3, just days later, Campbell allegedly walked into the Subway at 885 Eisenhower Parkway and hung out for a while, telling employees he was waiting for someone. Detective Bill Stanford, the initial lead investigator, said he then waited for all the customers in the store to leave and a worker to come clean the floor.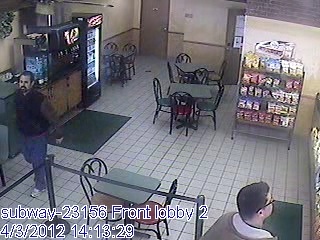 Courtesy of Ann Arbor police
When the worker went back through the employee entrance to go behind the counter, Campbell allegedly followed him and showed a handgun. He was given an undisclosed amount of money and fled the area on foot, according to Stanford.
The details on what happened in the May 7 home invasion in Pittsfield Township aren't clear yet. Detective James Maudlin, the lead investigator for this case, was not immediately available for comment Thursday, but Campbell is charged with first-degree home invasion, two counts of larceny of a firearm and possession of a firearm during the commission of a felony.
Campbell faces a total of three armed robbery charges, two charges each of first-degree home invasion; second-degree home invasion; assaulting, resisting and obstructing a police officer and possession of a firearm during the commission of a felony and one count of false report of a felony spread across six different cases, according to court records.
Five of those six cases were committed after Truesdell gave him a $10,000 personal recognizance bond on Feb. 3. A phone call to Truesdell's office seeking comment was not immediately returned Thursday afternoon.
Campbell was not yet arraigned on the new charges early Thursday afternoon, but was still lodged at the Washtenaw County Jail on a total of $75,000 in bonds. He's scheduled to return to court to face pretrial hearings on three of his cases at 1:30 p.m. Aug. 29 in front of Washtenaw County Trial Court Judge Archie Brown.
Kyle Feldscher covers cops and courts for AnnArbor.com. He can be reached at kylefeldscher@annarbor.com or you can follow him on Twitter.