Posted on
Sun, May 29, 2011 : 9:08 a.m.
Police investigating fight, shots fired at downtown Ann Arbor's Dream Nite Club; 1 person taken to hospital
By AnnArbor.com Staff
Details added at 10:45 a.m.: Victim was shot with what's believed to be a handgun. Clarified: Shots were fired in the parking lot outside, not inside the club.
Ann Arbor police are investigating a fight at Dream Nite Club overnight that sent 1 person to the hospital.
Police received a report of a fight at the club involving 8 to 10 people that spread out into the street. Shots were fired in a parking lot next door to the club, said Ann Arbor Sgt. Craig Martin, and 1 person was taken to the University of Michigan Hospital with a gunshot wound.
The age and gender of the person was not yet available this morning.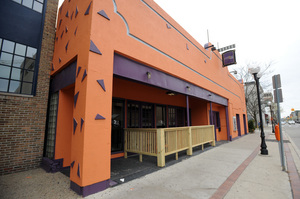 File photo | AnnArbor.com
Martin said the weapon was believed to be a handgun.
No further details were immediately available, and the club was roped off by crime scene tape this morning just before 9 a.m.
This spring, the club faced a non-renewal of its liquor license for unpaid back taxes and in March, the club planned to set up a payment schedule.
As recently as May, the club was the scene of another fight on an early Sunday morning, in which a man cut two men in the face and a woman in the leg with a sharp object during a fight on the dance floor.
The three were treated at U-M Hospital.